My Country; a work in progress
Carol Ann Duffy
National Theatre
Theatr Clwyd
–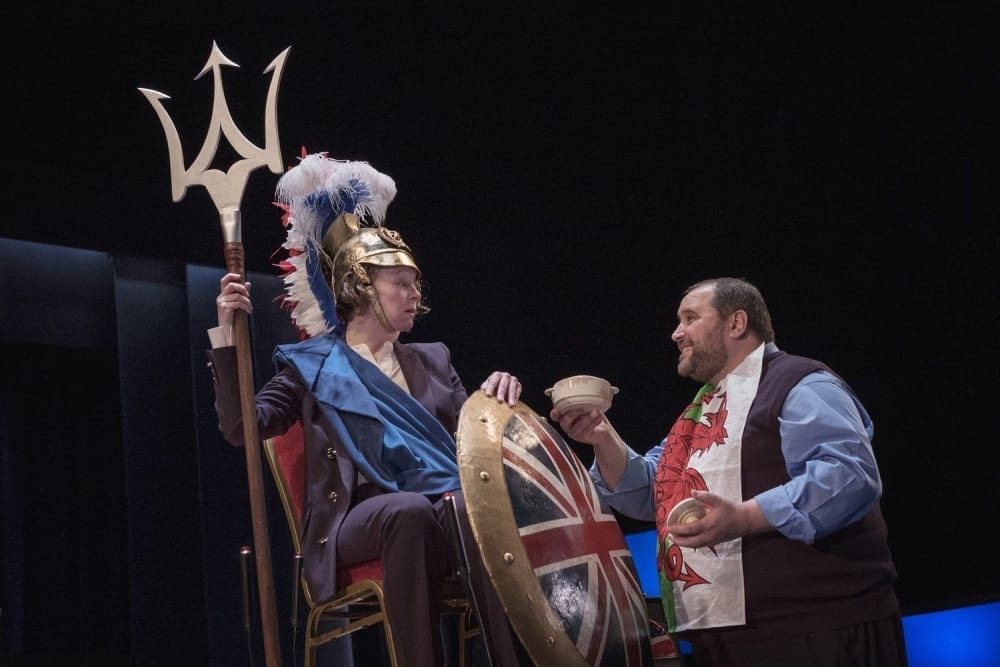 Compiled from a series of interviews conducted by The National Theatre across the UK after the Brexit vote, Poet Laureate Carol Ann Duffy and director Rufus Norris present a striking overview of My Country. The cross-section of views, which veer from hysterical to extreme, are interwoven with speeches by party leaders and the other main protagonists.
The scale of the undertaking is impressive, as is the final result which produces a superb bout of democratic dialogue that seems to offer a pretty comprehensive summary of the state of the nation.
Penny Layden is simply outstanding as Britannia, a role that requires her to give voice to the various politicians who tried to influence the public vote last summer. She offers an overly sincere David Cameron, a Michael Gove that struck this viewer as characteristically sinister and a 'cockney wideboy' Nigel Farage. However, it is the shambling, dissembling hulk of Boris Johnson that raises the most laughs and strikes a disturbingly familiar chord.
Other regions are equally well represented: Adam Ewan throws in some killer lines on behalf of the South West, Seema Bowri passionately articulates the views of the East Midlands while Stuart McQuarrie presents one of the evening's highlights as Scotland when he flounces out without his whisky.
However, it is Theatr Clwyd favourite Christian Patterson who leaves the strongest impression and not just because of his baritone entrance, or even the superb mime to Goldfinger. It is his moving articulation of the most important voice we hear all evening that really hits home.
It is the views of a thirteen-year-old girl from Merthyr who bears no malice, holds no political view and just tells us how she sees her world. How she feels is both poignant and a striking contrast to the rest of the voices as the one person who has most at stake has no say at all in her future.
My Country is a vibrant vox pop, superbly scripted and a compelling portrait of Britain 2017.
Reviewer: Dave Jennings