My Darling Clemmie
Hugh Whitemore
Cahoots Theatre Company
Assembly Rooms
–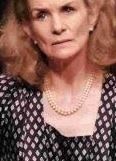 It's 10 years since this tiny Hugh Whitemore nugget of a play first played here, and gave actress Rohan McCullough an enduring and luminous one-woman role as Winston Churchill's wife.
It returns as much to remind us of the late playwright's mastery of dramatising real-life characters, giving them convincing dialogue, and cementing their place in history.
McCullough—his wife—doesn't so much inhabit the character as invite us, one by one, into her confidence.
In the thoroughly appropriate setting of her drawing room, she recalls how it was Churchill's piercing blue eyes that first caught her attention, or how the courtship and even marriage progressed through a stately exchange of intimate but appropriate letters.
Just in passing, she mentions her own turbulent upbringing, used as a virtual weapon between parents whose own marriage was a battlefield. Perhaps it gave her the resilience, if not the parenting skills, to cope with a husband whose own life was always at the centre of conflict?
Along the way, Whitemore sets this monologue against a subtle timeline of recent British history. Major events, and major figures, become chatty footnotes to life in the Churchill household, either at Downing Street, or their country retreat of Chartwell—which Clemmie 'detested'.
It's a masterclass of acting of course. A simple step upstage, followed by a turn and a fresh upward glance seems to be enough to shift the story along several years, and we are all totally convinced. In such confined surroundings, and at a moment of Clemmie's broken despair, it is all one can do to resist leaning forward and offering a hankie.
Like her namesake Clementine in the folk song, she may now be lost and gone forever, but her memory lives on thanks to Whitemore's fine writing and McCullough's talent for intimacy.
Reviewer: David Upton