My Love Lies Frozen in the Ice

The Dead Rabbits Theatre Company
Pleasance Dome
–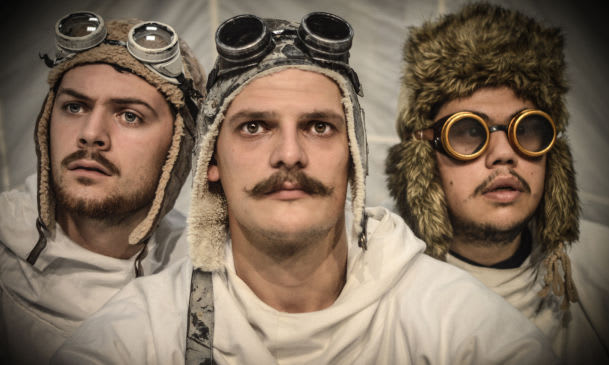 Told with warmth and playfulness, with gentle support from the audience, the true story of Salomon Andrée's doomed balloon expedition to the Arctic in 1897 is given a joyful celebration by Dead Rabbits Theatre Company.
Set thirty years after Andrée launched from Svalbard with Nils Strindberg and Knut Fraenkel, and told through the eyes of Nils's fiancée who continues to obsess over her lost love, we are treated to a multi-layered narrative, which allows space for mischievous buffoonery and knowing references to changing attitudes to gender.
This play between times, places and contexts provides opportunities to highlight the foolishness and lack of experience common during the golden age of exploration and is faithful to accounts of Andrée's exploits.
The Dead Rabbits' comedic brilliance is supported by a beautifully executed, simple design, which is exploited with unrelenting inventiveness, with white parachutes dominating the stage to create a padded cell, vast tundra, stormy seas and Mathilde Andrée's fantasy world.
Is hers a world of tragic mental illness, which requires treatment; or is it an unwavering devotion, the audacity of hope which keeps her alive? The gorgeous climax that engulfs Mathilde has an epic, luscious quality, proving that this multi-talented company are more than just easy comedy. This is a sophisticated, hilarious show, perfect for families with older children.
This is the Dead Rabbits' first Edinburgh Fringe and it's likely that, as the festival progresses, My Love Lies Frozen in the Ice will evolve to be their first big hit.
Reviewer: Tony Trigwell-Jones