My Mother Medea
Holger Schober (translated by David Tushingham)
Unicorn Theatre
Unicorn Theatre (Clore Theatre)
–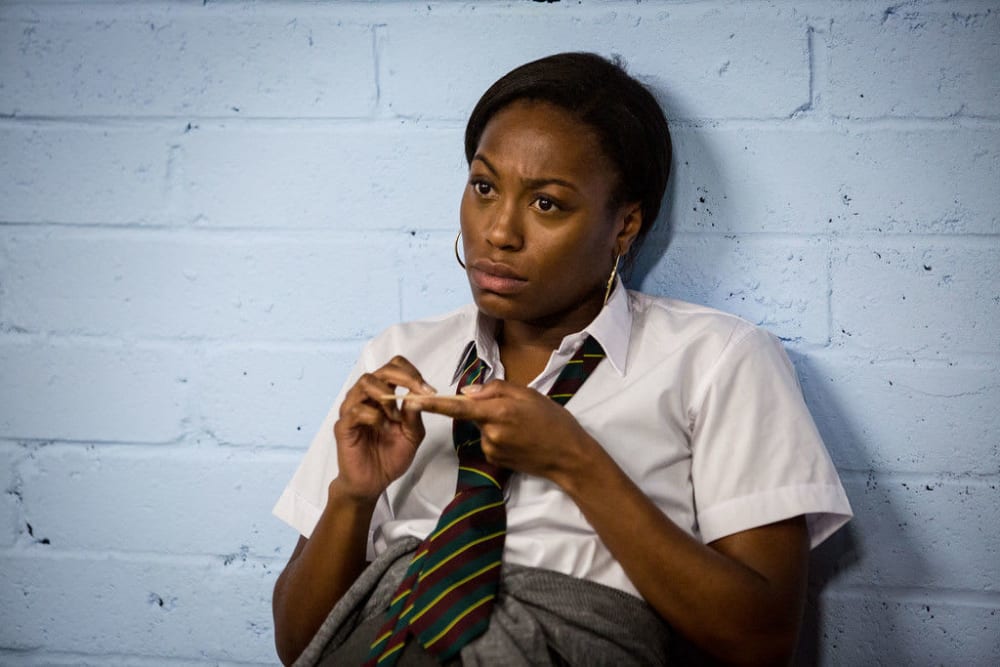 It may be appropriate programming that Austrian dramatist Schober's play follows hard on the upstairs Weston Theatre production of Jason and the Argonauts but this isn't a straight continuation of that story and it is aimed at a more grown-up teen-age audience.
First staged in Heidelberg in 2009, it doesn't rework Euripides' drama with a modern slant but looks at the predicament of Jason and Medea's children.
There is no need to know the earlier story; Polyxenos and his elder sister Eriopis provide the necessary information to explain their situation, but if you are aware of the whole Medea story it will add an extra resonance to what you witness.
Jason and Medea are a prince and princess heroically, but somewhat scandalously, celebrated for their theft of the Golden Fleece from Colchis. These teenagers (older than usually represented in other versions of the story) aren't nobodies but now they are outsiders and newly arrived in a new school in a strange country. It's the seventh change of school in three years for they've been on the move with their parents going from country to country. They haven't had to risk their lives across the Mediterranean but nevertheless these are refugee kids.
The family may be famous but nobody wants them, until now that is when the marriage has crumbled and father has found a new woman, a new wife. Where does that leave the rest of them? Unwanted and about to be deported.
Polyxenos and Eriopsis are in your school, in your classroom; they've been told to introduce themselves to you, their new classmates. It is a situation that could be as interactive as the audience cares to make it, but response came only to direct questions and the script deals easily with them for Eriopis is a tough young lady who takes no prisoners.
Stephanie Levi-John gives her an aggressive confidence but that's her armour. She walks right over Polyxenos who she thinks is nerdish. No use his whining for better treatment—"I'm not nice!" she tells him.
Polyxenos isn't stupid, but he hasn't got that sort of confidence. He seems to believe he is as weak as she calls him. Lawrence Walker makes him a boy as eager for his sister's approval as for that of the father who so ignores him. It's a younger brother and older sister situation.
The "sister from outer space," as he calls her, pours scorn while secretly looking-out for him. Despite declaring his muscled action men aren't dolls he admits he's girlish, wrong-foots himself by declaring he'd look better in a dress than she does.
The insecurity of their lives, the constant moves, have undermined them both. Tell the others who they are! "We need to know who were are ourselves."
Eriopis thought of her mum as cool but since she got together the dad she's been falling apart. Now they're divorced. He's got another princess but she's a couple of years too old to get another guy. Now she a drunken divorcee. "But she'll think of something; she'll go on fighting."
You probably don't have to be told what Medea thought of.
He wants the hero father to whom he looks up to give him just a smidgeon of real attention. "Dad talks about what I was and what I can be but never about what I am." And now dad seems to have cast them off.
There are great performances from both actors, though delivered in a somewhat artificial situation they bring reality to their playing and hold their audience engaged. The play touches on a whole range of painful problems: the effect of broken marriages on children, the rootlessness of being a refugee, hostility to those who are different, poor parenting, sibling relationships, bullying even, but it could dig much deeper.
Nevertheless, it makes an hour-long piece of powerful theatre that should stimulate lively discussion of these themes among the audience at whom it is aimed.
Reviewer: Howard Loxton