My Mother Said I Never Should
Charlotte Keatley
fingersmiths
New Wolsey Theatre, Ipswich
–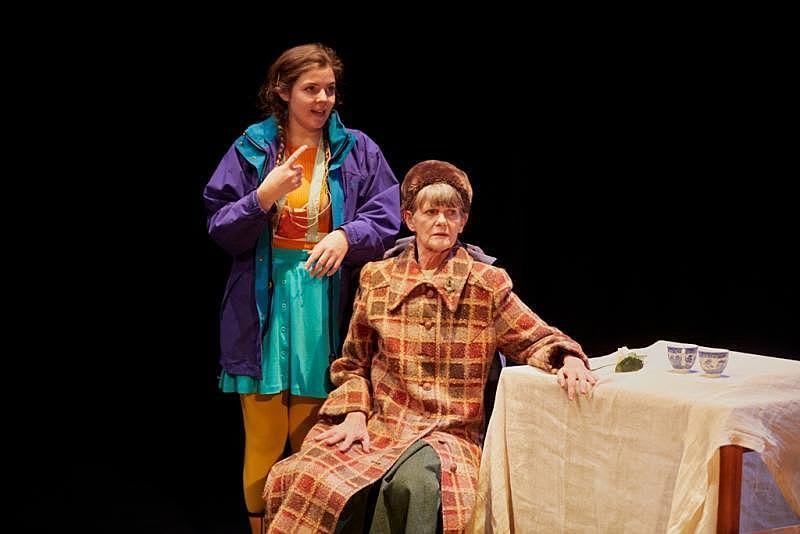 This particular show has done the rounds before and is also a favourite of amdram groups and so I was interested to see if anything new could be brought out of this oft-repeated classic.
fingersmiths describes itself as "a visual physical theatre company" that uses a fusion of BSL and hearing actors with the aim of creating a production that is as accessible to both deaf and hearing audience alike. Very often when this is attempted, the hearing side of the audience end up being the ones that struggle a bit, but fingersmiths' production—once you get the idea of what they are doing—really works as well as succeeding in bringing something new out of the play.
The set is a clever mix of old and new, with plenty of areas that could transform from playground to '50s terraced house, '60s garden or '80s London flat with very little movement of props or furniture.
Above is a kite-shaped screen which helpfully projects the year each scene is set—useful since this is a play that does a lot of diving backwards and forwards in time—and which also projects sections of the script.
Only one of the actors—E J Raymond, who plays Jackie—uses BSL exclusively and various methods are used to integrate her into what is essentially a script-based play. Sometimes, the other characters speak for her; sometimes their answers to her questions are enough to get the gist; sometimes if there is just one other actor in conversation with her then there are voiceovers for both while they sign.
The story follows four generations of women growing up in Manchester through the war years and into the '80s. The theme is mothers and their relationship to their daughters and how those relationships have changed over the years, but also the choices women are sometimes forced to make, especially in the face of difficult relationships with men. The various partners are only mentioned and never seen and to be honest none of them is shown in a particularly good light. This is very much play for women about women.
Ali Briggs as Doris brings a lot of poignancy to the part of the grandmother whose life has not been easy: married to a man with whom she largely just rubbed along. Jeni Draper (who also directs) brings a vulnerability mixed with brittleness to the part of daughter Margaret, whose relationship to her mother is always a little distant but she tries to do the best with her own wayward daughter Jackie whose deafness is made an integral part of the character. Lisa Kelly as Rosie is always a watchable presence on stage, lending youth and vitality to the mix of women and lifting the pace and mood whenever she is present.
The music and costumes help set the period of each scene and, although a little long due to the way the script is sometimes repeated, this is on the whole a very interesting and moving rendition of this well-known play. Worth seeing.
Reviewer: Suzanne Hawkes