My Mother Said I Never Should
Charlotte Keatley
London Classic Theatre
York Theatre Royal
–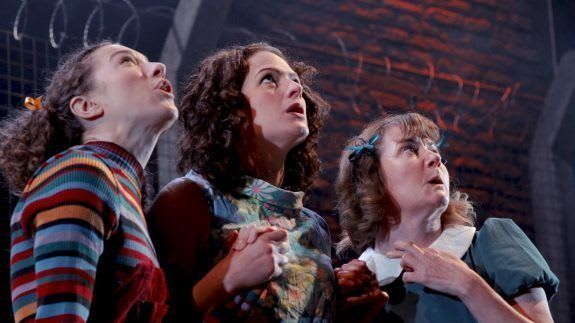 The name Charlotte Keatley may not be instantly recognisable to many theatregoers, but she is the playwright responsible for the most widely performed play ever written by a woman: My Mother Said I Never Should.
Performed in 31 countries and translated into 22 languages, My Mother Said I Never Should struck a chord with audiences and critics alike when it was first performed at Contact Theatre, Manchester in 1987. More than three decades later, Keatley's ambitious debut play still has much to tell us about the complex relationships that exist between mothers and daughters.
In her 1985 play, When I Was a Girl I Used to Scream and Shout, Sharman Macdonald explored inter-generational conflicts by oscillating between a woman's childhood in the 1950s and her adulthood in the 1980s. Keatley takes this device even further by dramatizing the bonds that bind four generations of women, encompassing seven decades and three different cities.
Doris (Carole Dance), a working-class housewife from Oldham born in 1900, wants better for her daughter, Margaret (Connie Walker). In 1951, Margaret moves to London with her husband-to-be, Ken, hoping to join the workforce. Twenty years later, Jackie (Kathryn Ritchie)—Margaret's daughter—rebels against her parents by leaving the capital to study art in Manchester. When Jackie gives birth to Rosie (Felicity Houlbrooke) at 19, she agrees to let her mother raise the child as her own, but this decision will have far-reaching consequences for all concerned.
These events are not staged chronologically, however, thus allowing Keatley to demonstrate how the characters' lives echo and diverge from each other.
Despite its formal inventiveness—deeply impressive for a first-time playwright—the chief pleasure of My Mother Said I Never Should lies in its heartfelt depiction of the everyday realities that British women faced in the twentieth century. Throughout the play, Keatley explores how women's lives have changed over the decades—each generation has greater opportunities than the one before—whilst also underlining the ways in which their dreams, expectations and fears remain the same.
A play like this runs the risk of dealing with archetypes rather than people, but the quality of the writing and the ensemble acting ensures that the four protagonists are fully rounded characters rather than symbols.
Carole Dance brings great warmth and dignity to the part of Doris, the stoical matriarch of the family. Connie Walker and Kathryn Ritchie capture the tension and underlying affection that exists between Margaret and Jackie. Completing the cast is Felicity Houlbrooke, who convinces us of Rosie's journey from precocious eight-year-old to jaded teenager.
Several scenes take place in the Wasteground—a mysterious dream space where all the protagonists co-exist as children. This setting is brought to vivid life by Bek Palmer, whose ramshackle set—inspired by disused factories, war-torn landscapes and fly-tipped rubbish heaps—is richly symbolic.
My Mother Said I Never Should is an absorbing, poignant and often funny play, and Michael Cabot's confident production shows exactly why it is so widely performed.
Reviewer: James Ballands