My Mother Told Me Not to Stare
Written by Finegan Kruckermeyer, music by Martyn Harry
Theatre Hullabaloo in association with Action Transport
Darlington Arts Centre and touring
–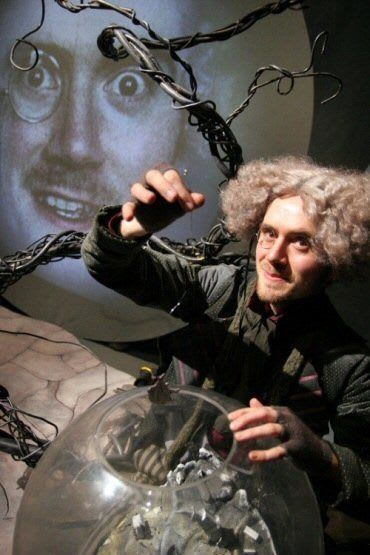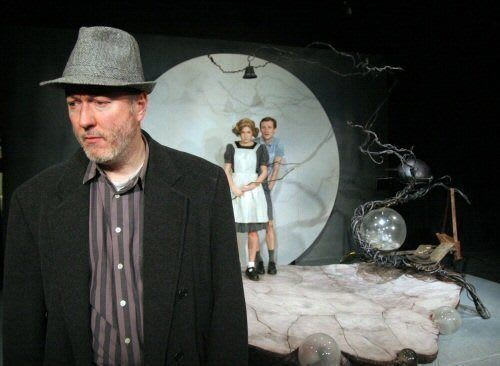 My Mother Told Me Not to Stare is aimed at children 8+ but it has to be said that stating it so baldly does the production a great disservice because the obvious reaction for many people is to think, "It's just a kids' show. It's not for me."
Wrong! As I said in my review of Theatre Hullabaloo's last production, Angel, good children's theatre is just good theatre, and, like that production, this one has much to say to adults - and to please them.
I do suspect, though, that some won't like it. If you're one of those - hopefully nowadays a small minority - who believe that children should not question anything adults tell them to do (or not to do), then you definitely won't because this is all about children who rebel against the interminable list of things that "my mother told me not to..." so that they can actually grow as individuals rather than as carbon copies of their parents who are copies of their parents.
Inspired by his friend Emily Ives (Eva Karell), Bobby Rogers (John Biddle) succeeds in destroying the "fixing kitchen" to which rebellious children are sent to be remoulded
It's an operetta. Actually, it's quite a dark, almost gothic operetta, with overtones of Tim Burton mixed with the darker side of Roald Dahl. Nor is the music what you might expect in a children's show, owing a great deal to Philip Glass and being a million miles away from Joseph and his coat of many colours.
It uses puppets and projection on a dark, bleak and effective set by Bek Palmer, and the cast of five (Karell, Biddle, Luci Bringinshaw, Darren Clark and Andrew Sparling), who play a multitude of parts between them, are singers and musicians as well as actors.
This is not the play's first outing but it remains ground-breaking and powerful, never "nice", never patronising its audience but challenging both children and adults alike. See it - and take your kids!
My Mother Told Me Not to Stare tours to: the Lawrence Batley Theatre, Huddersfield (7th June); The Y, Leicester (9th); Arc, Stockton (11th and 12th); Pegasus, Oxford (14th - 16th); Norwich Playhouse (18th); Town Hall, Hartlepool (20th - 21st); The Egg, Theatre Royal Bath (23rd); The Brindley, Runcorn (25th - 26th) and Whitby Hall, Ellesmere Port (27th - 30th).
Reviewer: Peter Lathan