My Name is Lucy Barton
Elizabeth Strout, adapted by Rona Munro
The Bridge Theatre
–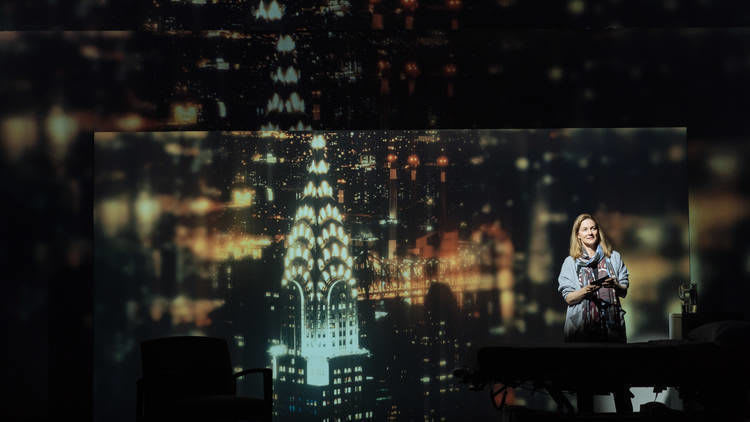 In this ninety-minute monologue successful American writer Lucy Barton looks back to nine weeks spent in a New York hospital many years before and from there back into her childhood, growing up in an impoverished family in Illinois, beaten by her father and thought a freak by her classmates.
It is adapted from a best-selling novel by a Pulitzer Prize-winner and performed by Laura Linney, an actress winner of Golden Globes and Emmies and of numerous Oscar and Tony nominations. This is her UK stage debut though audiences may know her from film and television, especially Armistead Maupin's Tales of the City.
It is an outstanding performance: one woman on a thrust stage playing to an audience of 900, a single figure who occupies the space with her acting. There are no histrionics. It is a performance and a play that is built up from small details.
Richard Eyre's direction skilfully modulates pace and of movement and marks out when it is addressed straight to the audience, when reaching back into memory and when acting out things while Peter Mumford's lighting is matched to the changes.
Bob Crowley provides a setting of elegant simplicity: a carpeted stage with a contrasting border, a hospital bed and a chair for a visitor and receding frames behind a screen on which are cast Luke Halls's photographic images of the hospital window with its view of the Chrysler building, fields of sweet corn, an isolated shack in an empty landscape or of rain running down a windscreen like a flood of tears.
Lucy Barton looks back to that time when a routine appendectomy went wrong and mysteriously she didn't get better until, as sitting on the hospital bed she remembers, she woke up one time and found her mother sitting by her: the mother whom she had not seen for years.
After years of estrangement, there is guilt on both sides but, while her mother comes visiting, Lucy finds she sleeps peacefully. Lucy's husband has a phobia about hospitals so he doesn't visit, her children are to young to come, she has been lonely—but she was lonely in childhood. "Loneliness was the first flavour I tasted in my life," she says and now life as a writer still makes her lonely.
Lucy's mother is there only through Lucy and, as she talks of her mother, it becomes a dialogue but there is only one actor. Sitting in the chair, Laura Linney becomes her, adopting her harsh Illinois accent, her aggressive loudness as she bitchily gossips about locals in Amgash, Illinois. She has one of those voices and is one of those people you go to great effort to get away from when encountered in Europe and a world away from Lucy's New York life, but this is the background she comes from, the life that has helped mould who Lucy is.
Lucy's memories aren't just of the distant past. She recalls how her daughter called her to the television and she watched the second 9/11 plane crash into the Twin Towers and she seems haunted by the face of a dying man she saw as she walked with her mother through the hospital, his eyes locked for a moment with hers. Later learning that a best friend whom she didn't even realise was gay had died of AIDS while she was in hospital, she is wracked by the thought that it may have been him who she looked away from without responding.
This succession of memories adds up. You could say they explain what makes a writer, both fictional Lucy and a real one.
Reviewer: Howard Loxton