My Name Is Rachel Corrie
Rachel Corrie (original writings), Alan Rickman, Katharine Viner (editors)
JMK Trust, Young Vic, Covent Garden Productions
Young Vic
–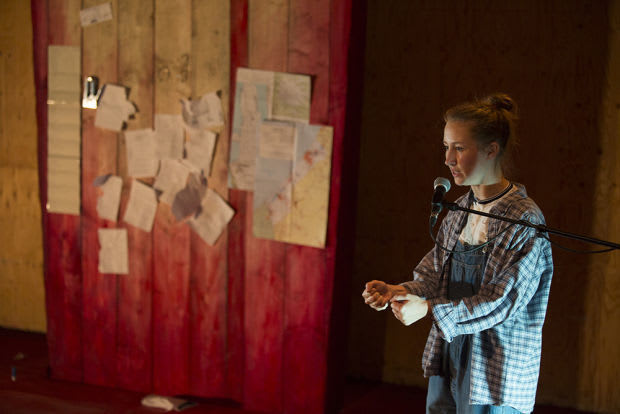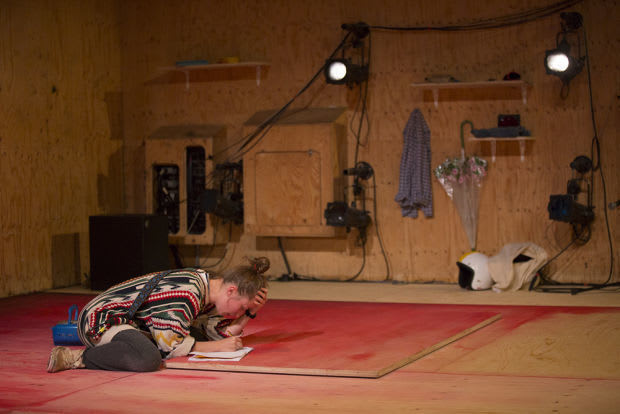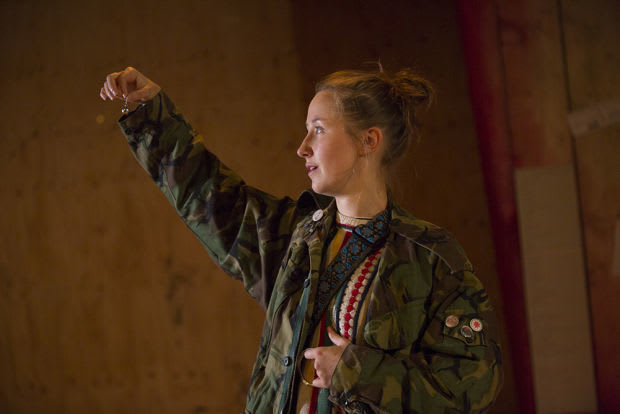 Rachel Corrie was a remarkable political activist who even as a 5th grader in a Washington State school was filmed giving a speech about ending hunger in the Third World.
She went on to criticise US foreign policy and to try and build solidarity with Palestinians. In 2003 at the age of twenty-three as she tried to prevent the Israeli demolition of Palestinian homes, she was crushed and killed by a military bulldozer.
When Erin Doherty as Rachel Corrie staples to the upright wooden structure of planks to the back of the stage a list of the dead people she would want to meet, the audience would surely have put Rachel Corrie on their own list.
Erin Doherty gives a confident, mesmerising performance switching fluently between the early playful but political Rachel and the later passionate activist raging against the horror inflicted on Palestinians by Israel.
She is rarely still, stapling or hammering parts of her journal, maps and other items to the wooden structure, chucking darts at the walls, and even changing the filters on the light spots.
This is a woman in motion as she tells with poetic eloquence her story directly to us conversationally, with humour and youthful optimism.
We hear about her early days in Olympia, her thoughts on parents and a particular boy. Occasionally she would turn on a cassette player that gave us music she enjoyed at the time.
When her membership of the International Solidarity Movement takes her to the Palestinian city of Rafah in the Gaza strip, her mood shifts and she becomes angrier at the suffering of the Palestinians.
She describes the demolitions, the checkpoints which stop people getting to work or even registering at the university. On one occasion, warning shots force her to withdraw from an area where she is trying to reach a Palestinian shot dead by the Israeli military.
Yet even in these circumstances, there are warm, gentle moments of sharing food or playing with children.
Her story ends with a transcript of a witness to her death who is certain the soldier driving the bulldozer knew what he was doing.
But the final thing we see is film footage of Rachel in fifth grade saying:
"My dream is to give the poor a chance.

My dream is to save the 40,000 people who die each day

My dream will come true if..."
Reviewer: Keith Mckenna