My Night With Reg
Kevin Elyot
Green Carnation Company
Quays Theatre, The Lowry, Salford
–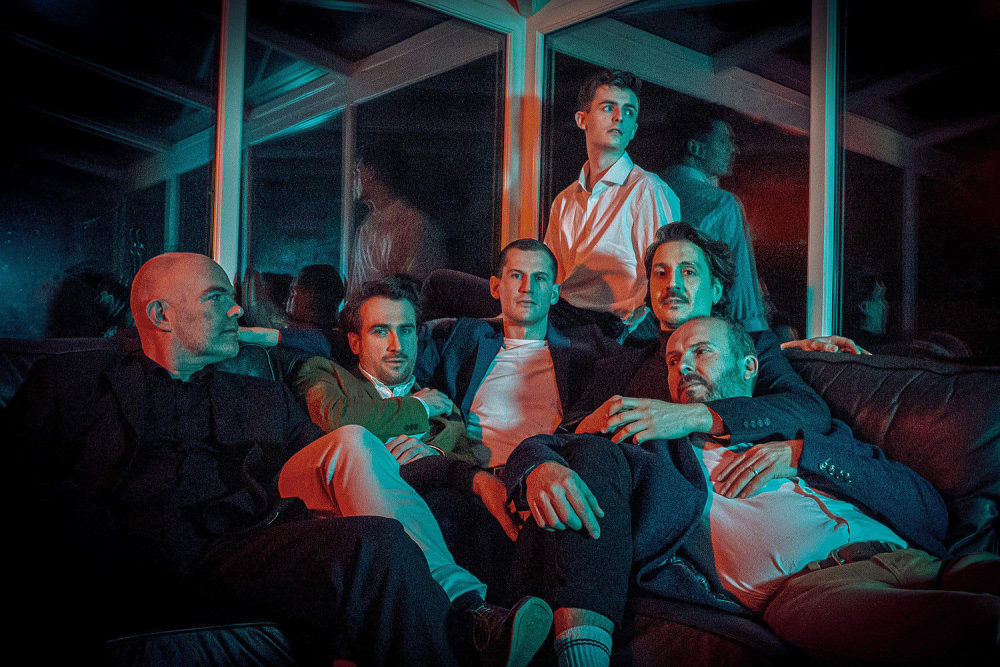 This darkly comic play by the late Kevin Elyot is one I've always admired, though until now this has only been on the page and through a TV adaptation I saw many years ago, so I'm grateful to Manchester-based Green Carnation for giving me an opportunity to see it on stage at last.
The structure of the play could be straight out of the Ayckbourn canon, set over three scenes of parties in the same location with long but unspecified time breaks in-between. The setting is the ground-floor flat of house-proud Guy, nearly forty, single and a little upset that everyone expects him to stay that way, evidenced by the "cooking for one" books they buy him as presents. I'm not sure why the revelation that he is knitting "a cover for my door sausage" is as funny as it is, but it perfectly captures his character, although the phone calls from Brad who wants him to treat him like a dog reveal another side to him.
The first scene sees Guy inviting a few old friends to his flat-warming, while young Eric finishes painting the walls. His guests include sporty John, whom Guy has loved since university but never told him, and Daniel, who is in a relationship with the titular but absent Reg. In the second (and longest) scene after the interval, Guy is hosting Reg's wake—gay men in the '80s found themselves going to a lot of funerals—where Guy reluctantly acts as confidante to most of the others as they reveal something, in each case involving Reg, that they don't want anyone else to know. Here we also meet dull Bernie and his other half, the rather blunt and down-to-earth Benny. The final, shortest scene is also a funeral, but I won't reveal which of the characters we have met who this is for.
The script is filled with warm, believable characters and some cracking one-liners, but it is far from a laugh-a-minute comedy. All of these characters (apart from Guy) seem to be in relationships where one has an attitude to monogamy that the other doesn't share, and of course the spectre of AIDS hangs over all of them.
Simon Hallam's Guy holds everything together pretty well. His is a role of reaction, and he has some great expressions as he squirms at the intimate revelations confided in him as "the only one I can tell" or when he realises how others see him. I didn't find Nicholas Anscombe's John as convincing, although he certainly looks and sounds like an ex-rugby player educated at Marlborough, nor was I convinced by the shallow flamboyance of David Gregan-Jones's Daniel.
Marc Geoffrey's Bernie is judged just right with his petty (but well-founded, it turns out) jealousies and enthusiastic talk of conservatories, a character that could also sit well in an Ayckbourn play, working perfectly opposite Steve Connolly's rather intimidatingly blunt and uninhibited Benny. Alan Lewis, whose training and CV in the programme is mostly in dance, has a simple but very effective approach to playing Eric, the youngster of the group.
George Johnson-Leigh's set design in '80s beige looks just right, but the French windows to the garden open to blackness and so it doesn't look as inviting as some of the characters seem to find it, and there are some odd changes of lighting in mid-scene (no lighting designer is credited).
I was a bit unsure by the early interval, but a much stronger second scene won me over to Dan Ellis and Dan Jarvis's welcome if uneven revival of a beautifully written play that is very much of its time but still resonates today.
Reviewer: David Chadderton