My Uncle Freddie
Adapted by Alex Ferguson from his BBC Radio 4 series
The Customs House
The Customs House, South Shields
–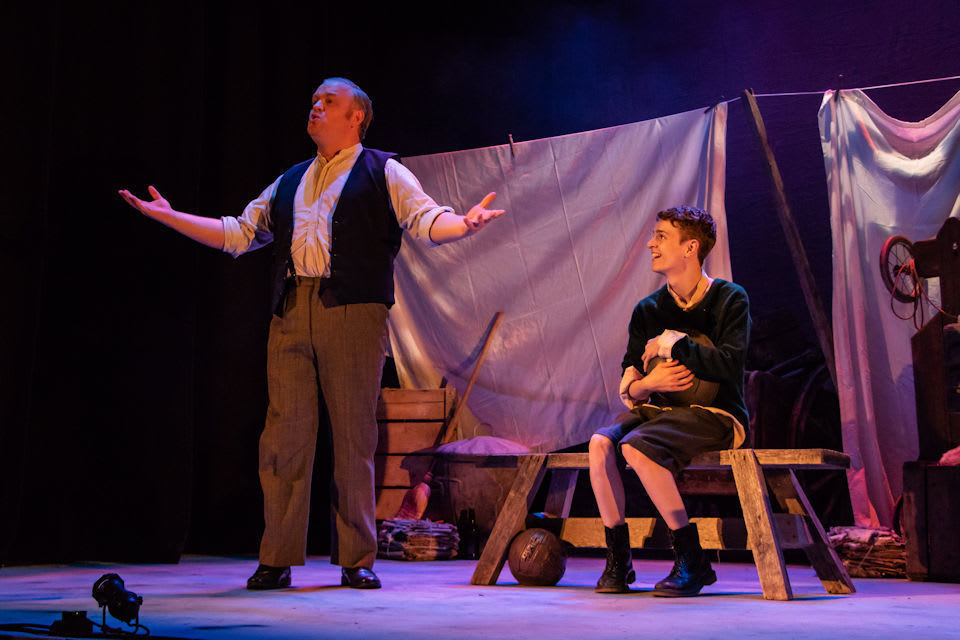 Don't we all have an Uncle Freddie, someone who, when we were kids, entertained us with stories from their action-filled lives, of the places they'd been, the celebrities they'd met and the adventures they'd had?
Well, OK, these stories may not have been exactly true but how were we, as kids, to know that?
And if we hadn't, there's always Alex Ferguson's magnificent creation, the central figure of three BBC Radio 4 series between April 1998 and August 2000, who held his ten-year old nephew Leckie enthralled in 1930s Jarrow with his tales.
Uncle Freddie may have told his stories in the middle of the fall-out of the closure of Palmer's Shipyard (whose cranes, Freddie told Leckie, held up the sky) in the town which, as Ellen Wilkinson said, was murdered; there may have been little money and mam had to take in washing and do cleaning work, but that didn't impinge on Leckie (after all, he know nothing different) because there was always the books he shared with Aunt Bella – and, of course, Uncle Freddie's stories.
And we don't notice it either, in spite of the obvious struggle to get enough money and the fact that Leckie's dad had lost a leg in the Great War, because Ferguson creates such a warm tight-knit community where the villains – the ginger tram inspector and the rag and bone man – get their comeuppance and everything turns out well for all those who deserve it!
It's very funny in a gentle and at times whimsical way and contains the best part one closer joke I ever remember hearing, leaving the audience howling as the lights come up for the interval.
The small cast of NE actors do Ferguson's writing full justice. Charlie Richmond, who replaced the indisposed Chris Connel at a week's notice, totally captures the spirit of Uncle Freddie with a twinkle in his eye as he tells the most outrageous stories, and Andrew Finnigan as Leckie has all the wide-eyed innocence of the ten-year old.
We've all heard of Everyman; Georgia Nicholson is Everymam, the mother every boy would want to have, caring, protective and supportive, whilst Paul Dunn (Dad) is not really able to talk to his son, to express his feelings - but he's still his dad.
Aunt Bella, Uncle Freddie's wife and Leckie's reading companion, is played by Jill Dellow, who very clearly conveys the frustration (and irritation!) which comes from marriage to Freddie. She, along with Dunn and Nicholson, plays all the other parts which include, among others, the afore-mentioned Ginger Inspector (Nicholson), Leckie's teacher (Dellow) and the rag and bone man (Dunn).
The audience loved it, for it has that combination of humour, nostalgia and feeling good about being a Tynesider that always pleases and if it seems that, at times, a change of pace or intensity would be beneficial, it almost feels like nit-picking to say so.
Next month the Customs House premières a stage version of yet another NE classic, BBC TV's When the Boat Comes In. It, too, has a fine cast of local talent and one can't help feel that this small theatre on the banks of the Tyne is punching well above its weight!
Reviewer: Peter Lathan