And Even My Goldfish
Produced by Chotto Ookii
Carriageworks Studio, Leeds
(2006)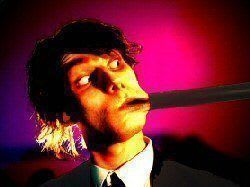 Five extremely talented young performers energetically present an image of a socially isolated, agoraphobic young man, coping with his condition. Or almost coping. Well, hardly coping at all.
He has a Hammer House of Horror landlady (or mother), a young couple dressed in white who live on a white sofa which comes and goes in his tiny room. And three personified memories/fantasies.
It's all a little confusing and, at seventy minutes, rather too long. A pair of drawbacks that multiply rather than add, especially when combined with Carriageworks hard plastic seats.
But these are drawbacks that could easily be rectified: take the script and cut to the chase!
And it's a great chase with some of the most beautiful, simple, low tech theatrical effects I've seen since the great Shockheaded Peter. And the performers are so watchable! Mat Rogers, a charismatic gangling comedic presence is on stage for all seventy minutes, locked in his agoraphobia and numerous obsessions. He creates and recreates, the oncoming tide in the palm of his hand, keeps the doorknob in his pocket, seeks solace by leaving telephone messages to strangers and fastidiously wipes the phone and every other surface.. And yet his, let's say landlady (for this whole scenario is one of student and gruesome landlady), his landlady then, still finds the need to endlessly vacuum and polish his space. Perhaps she loves him. Perhaps he imagines her. Whatever, she is played with a wondrous touch by the unforgettable Kathleen Yore.
In fact the whole troupe shows immense promise, the other performers (Rebekah Caputo and Jake England-Johns) lack the comedic presence of Rogers and Yore but make up for this with their exuberant and witty dance. Will Bartlett's sound, Stuart Sandford's lighting and Laura Scott and Brenna Yore's wardrobe are all first class.
Given a clearer narrative structure, so that the drama grips and gives purpose to the theatre skills, Even My Goldfish could be a little masterpiece. And who knows what this talented bunch will come up with next?
Chotto Ookii (it means 'a little bigger') emerged from Breton Hall (following the League of Gentlemen). It is an impressive and very welcome new force in small scale touring.
Reviewer: Ray Brown