My Own Show
Lesley Bruce
Stephen Joseph Theatre, Scarborough
(2006)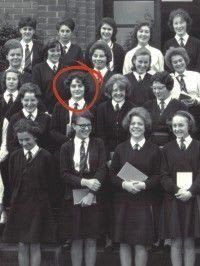 The setting for this play (designed by Simon Rorstand) is suitably ambiguous: a modern room containing two pale sofas with dark cushions, a pale furry rug and glass-topped coffee table, and a large Warhol-style portrait of a middle-aged woman smiling confidently, making us wonder whether this is someone's smart, modern sitting room or a chat show set - in fact we discover later that it's both. The room looks so neat and perfect, it's clearly been set up for Something To Go Wrong - and a glass of tomato juice spilt all over the lovely rug is only a small element of that.
Three women - Fay, Gillian and Jude - are having a post-mortem conversation on their return from Fay's This is Your Life - sadly Fay, who hosts a daytime TV chat show called Frankly Fay, is not at all happy about how it's gone. Important People have been conspicuous by their absence, and she is feeling decidedly slighted.
Fay (Maggie Ollerenshaw) is a hardnosed, media type with a 'celeb' style home but no close friends and no sense of loyalty towards Gillian and Jude. Gillian (Susan Twist) is a brittle City headhunter in a sharp pink trouser suit with apparently no private life, though it emerges later that she has a married lover. Jude (Gabrielle Lloyd) is a dithery, dowdy academic type with a vague plan to write a 'paper' on the ancient Assyrians, but her main occupation is doing odd jobs for Fay, who pays her.
They are old schoolfriends, and the conversation turns to their schooldays and an unpopular fellow-pupil 'Bollards' (real name Caroline Pollard), who has unexpectedly turned up as a result of the tribute programme. The three friends victimised her at school, to the extent of daring her to flirt with the geography teacher: the prank backfired, Bollards got pregnant, and the teacher lost his job.
Now, all these years later, the larger-than-life, excitable Bollards (Gillian Hanna) is back in their lives with a vengeance, though apparently with no ill feeling. She turns up at Fay's home, despite having been given deliberately misleading directions, and brings her son, Allan, with her. It emerges that the socially inept and unemployable Allan (Ian Midlane) is the result of Bollards' fling with the geography teacher - and it wasn't just a fling, they actually married, and lived together happily ... for a time.
The arrival of Bollards sets the plot in motion, and eventually the tables are turned on Fay and her friends. Bollards gradually replaces Fay, living in her home, wearing her clothes and, eventually, taking over her TV show (which is renamed Candidly Caroline).
The five characters are nicely differentiated, and it's good to see a play containing well-rounded parts for four mature actresses -- there's no 'token granny' or 'dotty aunt' here. The cast is strong and well matched, a pleasure to watch.
Comparisons with Ayckbourn are hard to resist: as in his plays, we have here satirical commentary on middle-class contemporary life, human foibles, oddball personalities, and plenty of humour. It's an enjoyable play, though I felt it needed a clearer sense of conclusion in the final scene before the interval and at the very end.
Reviewer: Gill Stoker