Myra's Story
Brian Foster
Assembly Festival
Assembly George Square Gardens
–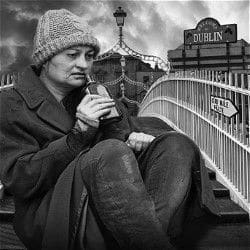 A simple enough story, told well, is worth its weight in all the riches of the world. And this is certainly true for Myra's Story, Brian Foster's tale of a homeless, alcoholic Irish woman, living her days from hostel bed to gutter, blacking out the days with drink to keep the memories from flooding back in.
The tale stretches from the innocent but poverty-struck days of her youth in the 1950s, through Bloody Sunday and the troubles, up until the modern day, a story that could be easily true for any homeless soul, the truth behind a forgotten social pariah.
Fionna Hewitt Twamley takes the part of Myra, wrapped in layers of ragged clothing under a long shabby coat, and yet she is ever-cheerful, with a wry, quick smile and sharp tongue that belies her pain. She recounts the years of her life, from her days as a young girl, keeping house for her alcoholic widower father, through years of romance, joy, pain and tears and behind it all, the spectre of "the beast", the damned addiction to drink that claimed her father and looms ever-present, ready to take her.
The performance is subtle, but with a symphony of voices, each unique and definite, which is at times surprising as she flits from low, masculine rumbles to high-pitched girlish squeaks, with impossible quickness and ease. The staging is also a measure of simplicity—a simple bench and a handful of props—yet the world Myra paints with her words never feels less than vivid.
It's testament all round to the words, the performance and the simple but effective staging that this will wring laughter and tears from even the stoniest of hearts.
Reviewer: Graeme Strachan