Mysterious Skin
Adapted by Prince Gomolvilas from Scott Helm's novel
Vertigo Productions
Three Minute Theatre, Manchester
–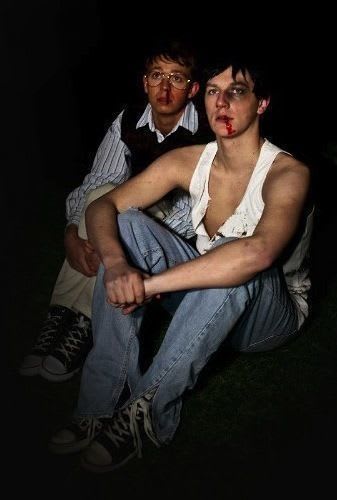 This adaptation by Prince Gomolvilas of Scott Heim's disturbing 90s novel is very strong, dark stuff.
Two young men are sexually abused by their sports coach when they are children. Both are profoundly damaged. Brian is so traumatised that he develops into a geek creating a fictitious alien abduction experience to explain to himself what has happened. The other, Neil, who believed that coach loved him, goes off the rails completely escaping into a world of drugs and prostitution.
The clear intention of the work is to unsettle and disturb the audience so that we feel some understanding of the enormity of the harm suffered by the lads. The production manages to do this very skilfully, aided by some fantastic performances from the talented sextet. Given current press and media coverage of abuse allegations it is an appropriate reminder of the impact of this kind of crime on its victims.
The story is told in cinematic-style flashbacks with minimal props and scenery and set in three main time periods: the present of 1991 when the lads are young men, the childhood time 10 years earlier and the onset of Neil's sex work in 1988.
The first half of the play shows Brian and his friendship with gawky young disabled woman Avalyn. She totally believes in his abduction as she feels she has had a similar experience. What is deftly shown is how oblivious Brian is to her amorous intentions. This leads to a very clumsy attempt to seduce him which goes horribly wrong.
Simultaneous to this on the other side of the stage, Neil is being raped and beaten up by one of his clients. Though very well realised, both scenes are extremely difficult to watch as the main characters are in such explicit physical and emotional distress. There is also full nudity involved with swearing and simulated sex acts.
The second half of the play portrays how Brian rediscovers Neil, who has appeared in his troubling dreams and whom he feels can explain to him what has, in fact, gone on. This is a tour de force from both leading actors.
David Edward Lock shows us a Brian who is intense and yet terribly fragile. He brilliantly conveys his growing emotional distress and reaches a catastrophic breakdown on finally recalling the truth. It is one of the most remarkable performances this reviewer has yet seen in a fringe production. The consistency and control while appearing in the grip of such powerful emotions are truly unforgettable.
Richard Allen matches him all the way as Neil, whose icy calm becomes very sinister the more Brian goes to pieces. This lack of empathy for Brian's distress is the demonstration of his own psychological scarring. They are, in effect, two sides of the same coin.
Both leads are deftly supported by the rest of the cast. Ciara Tansey as Avalyn is very affecting and brilliantly draws us in to her character's loneliness. Steph Reynolds as Neil's friend Wendy gives a feisty and refreshing performance and convinces us that she does deeply care for the gay Neil even though he can't reciprocate quite as she'd hope.
James Devlin plays a diverse set of characters with great craft and flair. These include the brutish client who attacks Neil when high on drugs. Katie Burgess gives strong support as both Brian's desperate mother and a lovely cameo as a bored records clerk filing her nails as opposed to caring for her files.
While the piece is, at times, extremely harrowing, it is a very moving and important piece of theatre. Co-directors Craig Hepworth and Adele Stanhope are to be congratulated for offering such quality on the Manchester fringe. The whole team thoroughly deserved the rapturous applause from the packed 3M Theatre.
Reviewer: Andrew Edwards