My Wonderful Day
Alan Ayckbourn
Bath Theatre Royal and touring
(2010)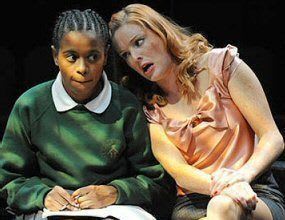 At the age of 70 Ayckbourn is directing his 73rd new play. My Wonderful Life premiered in Scarborough and New York and is now at the start of a national tour.
Ayckbourn's mastery of farcical comedy is entirely on form here, but what makes this one stand out from the rest is its unnerving portrayal of the complex trivia of adult lives as seen through the eyes of the central character, 9 year old Winnie.
Ayesha Antoine gives an astounding performance as the 9 year old girl who won't go to school because she's worried about her heavily pregnant mother. Antoine, herself in her late twenties, is utterly convincing as a watchful 9 year old, forced to grow up before her time.
Although the cast is without weak link, it is the charisma of Antoine's Winnie which turns this from a good play into a great production. Antoine gives Winnie an unfettered, child-like wisdom which brilliantly anchors the comedy that unfolds around her, lifting it from pure farce to something altogether more moving.
Undoubtedly, Ayckbourn's characters here are well observed. Kevin (Terence Booth), the self-obsessed careerist, and Tiffany (Ruth Gibson), for example, the beautiful, long-suffering young assistant with all the polish of a privileged upbringing but without the self-belief needed to make herself anything more than her boss's plaything. And Kevin's wife, Paula, (Alexandra Mathie): a fearsome, self-possessed woman, quick to chide and eager to reap revenge on her adulterous husband.
In essence these characters and their situation are the classic ingredients of farce. Older man; younger woman; wife bound to find them in a compromising position. They are nothing new; the familiar cornerstones of farce. In fact in places, characterisations come close to caricature.
But anchoring them all is the central relationship between heavily pregnant, single mother Laverne (Petra Letang), cleaner for Kevin and Paula, and her daughter Winnie. The stark realism of these two sets the trivia of the rest into sharp contrast making for an irresistible whole. It's ground-breaking stuff.
That none of these adults can really relate to each other is somehow magnified here by their inability to relate to Winnie. That Winnie clearly recognises this with a perception beyond her years makes us mourn her lost childhood even as we laugh at the farce.
Runs at Bath Theatre Royal until February 6th, and tours to Oxford, Richmond, Cambridge, CTC Mold, Eastbourne and Windsor.
Reviewer: Allison Vale