The Road to Nab End
William Woodruff; adapted by Philip Goulding
Coliseum Theatre, Oldham
(2010)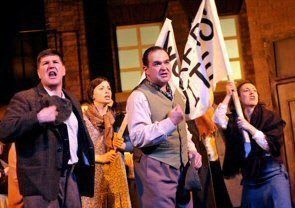 Oldham Coliseum's summer production takes us to 1920s Blackburn in an adaptation of William Woodruff's best-selling memoir The Road to Nab End about growing up in an industrial town in Lancashire just as the British cotton industry began to fall apart and the depression took hold.
The story is narrated by an adult Woodruff, returning to his childhood home in Blackburn from Florida when in his eighties. As he tells us about his early life, we see the scenes unfold on stage, linked by songs from the period sung in full chorus by the cast. As the play begins, the Lancashire mills are in their heydays, the local mill owner has installed electricity and weaver William Woodruff senior appears to have a job for life, but then the depression hits, the mills close and work is scarce, and so the family goes hungry for a while with tragic consequences. Young William's (or 'Billy') obsession with reading books and his sister's offer of a scholarship due to her mathematical brilliance are not considered priorities by their proud father.
The story takes us through the General Strike and on to when Billy gets a job with a greengrocer and develops a crush on a middle-class girl whose house he delivers to. With the children working, the family is able to move into a better area where their neighbour, former mill owner Terence Peek who lost everything when his business failed, takes an interest in educating young Billy. However their good fortune cannot last and the prospect of them moving downmarket again to Nab End becomes ever more likely.
It is hard not to draw parallels with Bolton Octagon's current production, The Hired Man, as both are adaptations of books set in the north in the early twentieth century and both show a family struggling over a number of years to find work and raise a family, although Nab End begins its story around the time that Hired Man finishes. It also suffers from the same problems of book adaptation in that it has a lot of short scenes that end before the audience can really empathise with the characters and situations, with big jumps in-between. There isn't so much a story as a loose collection of events, and the extensive use of narration feels rather like a lazy and clichéd way of making up for the deficiencies in the dramatic narrative.
Former artistic director of the Coliseum Kenneth Alan Taylor does a decent job of narrating—but then his job really is simply to speak sections of the book out loud—and Adam Barlow is very good as his younger self. The six other actors all play multiple roles, and all do a good job of distinguishing between them. Billy's father is really the main character for quite a lot of the time as the plot hinges on his decisions for the family, and he is given a very strong portrayal by John Elkington, who also creates a very nice character of the grocer. Opposite him, Lisa Howard is also excellent as Billy's mother. Robin Simpson creates some wonderful characters as Billy's friend Harold, former mill owner Peek, a trade unionist and many others, and Christopher Chilton also creates some nice characters. Others are played well by Frances McNamee and Jo Mousley.
Alison Heffernan's set utilises multiple levels to good effect with lots of brickwork to emphasise the Victorian industrial landscape in which the play is set. Howard Gray returns as musical director to provide some beautiful choral arrangements that really add to the atmosphere of the play.
There are some nice, interesting scenes, great performances, lovely music and some genuinely funny moments (and some where they resort to silly voices and picking out people in the audience for laughs) but the overuse of narration, scenes that end when they appear to be about to get interesting and the vague storyline make this a frustratingly uninvolving experience for an audience.
In an interview in the programme, adapter Goulding mentions his favourite part of the book, which he didn't use in the play, that he says is like a self-contained short story in just seventeen pages. Perhaps a play based on a short section such as this may have been more successful than trying to include a little bit of everything that happened over several years.
Running to 10 July
Reviewer: David Chadderton