Naked Boys Singing
Conceived by Robert Schrock
King's Head, Islington
(2009)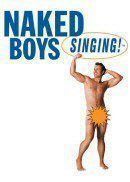 Soon there will be nobody left in Soho if the King's Head has anything to do with it. F**king Men continues to extend its run and is now sharing its outrageously camp stage with Naked Boys Singing 2009 (which is pretty much just what it says it is - naked boys singing).
Naked Boys Singing is one of Off-Broadways' longest (no pun intended) running shows and it looks set to continue its success. A title such as this leaves you in little doubt as to what you are about to see; in fact the opening number, "Gratuitous Nudity", lets the audience know that the performers know exactly why they have come to see this show. It also won't shock you to know that, with the exception of a few dedicated fag hags (myself included), the audience for this production is largely same sex orientated, which is a shame actually as this show is about more than penises.
Camper than A Chorus Line, Naked Boys Singing follows seven men as they audition to be in a show which requires nudity. They sing about other jobs they have had which required nudity, about admiring the naked boy in the apartment across the street, about being a "perky little porn star" and about Hollywood stars whose nude appearances did their careers wonders. Of course, I know what you're all thinking; this is all very well and good but when do they stop singing about being naked and actually get naked themselves!
There is a great deal of teasing - or what you might call theatrical foreplay - before the big reveal and boy, do they reveal it! These boys don't let the fact they have no clothes on deter them from their energetic dance routines, complete with high-kicks. In fact, before they get to this moment you may feel that they have played it safe by keeping their clothes on for so long. However, by forcing us to wait, the impact is that much stronger and, in all honesty, once they are naked it is, as you can imagine, rather distracting.
The star of this show may be the nudity but it is supported by a fantastic cast. Their performances are funny, moving, and bizarre (and this is even with their clothes on!) There are moments when it all gets a little bit too Queer as Folk with a rap about checking out the other men in the gym, accompanied by full-on pumping disco lights. However aside from that (and of course the fact that they are naked for half of it), Naked Boys Singing really isn't that different from any other musical.
There is no reason why Naked Boys Singing shouldn't replicate its American success in London with its great songs, great performances - oh, and of course I mustn't forget to pay tribute to their co-stars!
Reviewer: Rachel Sheridan