Naked Splendour: a Life Model Speaks
Written and performed by Philip Herbert
Rosemary Branch Theatre
(2011)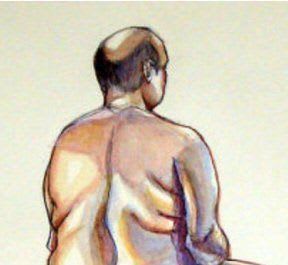 Already seen at Hackney Empire, on the Edinburgh Fringe and at the Soho Theatre this inspired one-man show now finds a perfect setting in the intimacy of the Rosie.
Actor Herbert first posed as a life model to help finances when he was at drama school; he got the job by lying that he already had experience posing for the royal Academy Schools. At least that is what he tells us in this performance and I strongly suspect that most of his entertaining script is him simply telling the truth with perhaps a little embroidery and tongue in cheek invention.
It is a theatre experience like you have never had before, or probably will again. Enter the little theatre and before you can settle in your seat a large lady calls you down to the stage, set up as an art studio, to collect a clipboard and, pencil, charcoal or other chosen drawing medium while a sermon by Pentecostal preacher Dr Harold Horton, first given in 1943 and recorded by him later, is played. He titled it "The Naked Splendour of the Cross", hence its relevance to this occasion. (You can hear it yourself on the website brothermel.com/hhthecross.aspx.) By the time it ends you are all ready to begin a real life class.
Herbert greets us and then hands over to the art teacher (himself in a bit of a fichu) then, retiring behind an imaginary screen (but in full view) prepares himself for posing, removing first shoes then gradually everything, ready to take up his naked poses. Julian Clary, whose television assistant Hugh Jelly was played by Herbert) has described the body he reveals as 'a cross between Michelangelo's David and Beryl Cook's Lady of Marseille; I'd say think Leigh Bowery whose fleshiness Lucien Freud found so inspiring. Yes, maybe a well padded body (I'm being polite) is more interesting to draw, and you don't have to compete with Freud or the chap or chapess next to you. It is not a contest and there are no prizes
In real life models are supposed to be mute unless they are spoken too but this is theatre so rules can be broken and while taking up a series of timed poses, Herbert talks to us about the conditions of his work and his experiences as a model.
He's often asked, he says, whether he knew Quentin Crisp. He never met him, but that doesn't stop him telling some quick Crisp stories.
He wonders what happens to all those drawings and paintings that have been made of him, an awful lot in thirty years of posing. He ponders on how very differently people represent his genitals: an indistinct abstraction, a little sausage or sometimes a flattering enlargement from their imagination. Whatever the representation it is all imagination. Somewhere beneath that mound of flesh and cellulite there must be the usual tackle but I certainly couldn't see any! The only hint of titillation in this show is his nipple rings, and they are very discreet ones.
He gives us a poem, one of his own, called "Mrs Thatcher's Pussy" (an overfed tomcat) and another called "The Night I Slept with Jesus". He shares a particularly strong memory of a dual modelling session with a skinny Indian; he can still feel the imprint of his bones in his back. There are series moments when he meditates on birth and death but he usually has a light touch, leavened with humour. There are a few camp jokes, some at the expense of gay friends in the audience (who may or may not be really there) and a little discussion of the artwork produced by one or two who certainly are. Herbert is full of reproof for teachers who tell kids they can't draw - or sing or do anything. "If you can talk, you can sing" he says, "If you can walk, you can dance and if you can put pen to paper, you can draw."
Mr Herbert, both the actor and the character, is a really nice guy and in Naked Splendour: a Life Model Speaks director Susie McKenna has shaped a delightful performance. You will enjoy Mr Herbert's company and perhaps surprise yourself with unexpected artistic talent.
"Naked Splendour" is at the Rosemary Branch Theatre until 12th June 2011.
Reviewer: Howard Loxton