Napoleon Disrobed
Based on the novel The Death of Napoleon by Simon Leys
Told by an Idiot, Theatre Royal Plymouth and Arcola Theatre
Stephen Joseph Theatre, Scarborough
–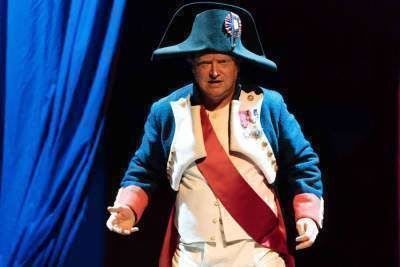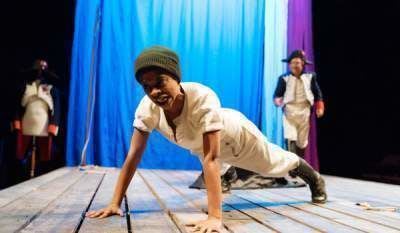 History tells us that Napoleon Bonaparte (1769-1821), who bestrode Europe like a colossus, died an ignominious death on the remote island of Saint Helena. Told by an Idiot, however, presents us with a different theory.
Based on Simon Leys's novel The Death of Napoleon (1991), Napoleon Disrobed imagines what would have happened if the great French leader had managed to swap identities with a willing stooge and returned to France in order to live as an ordinary man.
Audiences familiar with the work of Told by an Idiot will know to expect the unexpected, and this production is wonderfully anachronistic and supremely silly. Upon arriving in Paris—via Eurostar!—Napoleon (Paul Hunter) flounders at first, but soon falls in love with a young woman named Ostrich (Ayesha Antoine), the proprietress of a struggling melon business.
However, Napoleon finds himself haunted by his former life as France's supreme leader—his iconic military garb is visible onstage throughout the production. Will he manage to forget the past and move on?
Napoleon Disrobed flirts with the philosophical questions posed by Simon Leys in his novel, and there are scenes of understated tenderness and poignancy between the two lovebirds. Overall, however, the show is about making the audience laugh—at which it succeeds admirably.
After a faltering start in which Paul Hunter pretends to be Jeremy Paxman on University Challenge, the production quickly kicks into gear. The production is filled with scenes of delightful lunacy—melon tennis, anyone?—and it is superbly acted by its two performers.
Paul Hunter, the artistic director of Told by an Idiot, is a highly skilled comic actor, and he ekes every bit of comedy out of the play's batty premise. He is ably supported by the excellent Ayesha Antoine, who demonstrates impressive versatility by playing every other character in the play.
Kathryn Hunter directs with great energy and pace, and Michael Vale's set design is inspired. The stage is set on rockers, which means that Napoleon's hypothetical sea voyage is brought to life in a highly amusing way.
Some critics have dismissed Napoleon Disrobed as lightweight, which is understandable given its irreverent subject matter and short running time (a mere 75 minutes). But I would happily recommend this production to others for its terrific performances, comic brio and inventive staging.
Reviewer: James Ballands