Napoleon Disrobed
Based on Simon Ley's novel The Death Of Napoleon
Told By An Idiot, Theatre Royal Plymouth and Arcola Theatre
The Drum, Theatre Royal Plymouth
–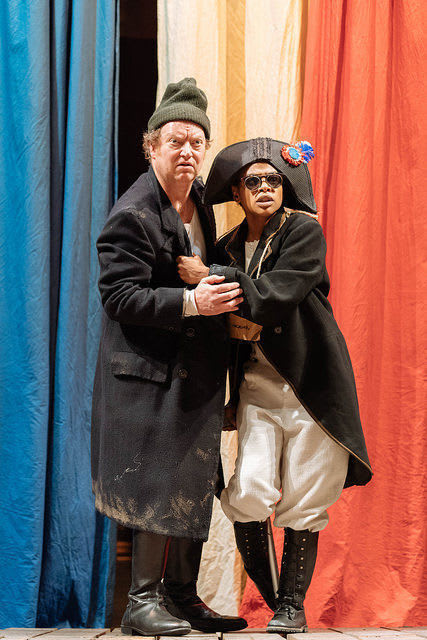 Ludicrous and philosophical, Napoleon Disrobed is an awful lot of mucking about disguised as an examination of identity and what-if?
Derived from Simon Ley's ironic tale of an alternative end to the diminutive Emperor's exile, Napoleon Disrobed explores personal freedom, misdirection and domesticity through Told By An Idiot's trademark blend of humour and physicality.
Company co-founder and artistic director Paul Hunter is languid, sardonic and wry as the legendary ruler whose cunning plan of subterfuge, retaliation and power is hijacked by his reported death and sidetracked by the charms of a recently widowed melon merchant. His slick escape from St Helena is soon derailed as the ship docks in a subsiding Antwerp, the towering hotel proves faulty, the Eurostar timetable is infrequent and a courtesy bus adds to the timeless absurdity.
An opportune comfort break affords a tourist glance at Waterloo with rewritten history to be bought for a coin in a beggar's cup, it takes less than a red rose to attract the undercover faithful for safe house directions on the metro and just the mention of a croissant to obey orders, and the great battlefield tactician turns his mind to ultimate fruit-selling strategy.
The enchantingly versatile Ayesha Antoine is everyone else: Eugene summoning his inner Napoleon; the pint- (of Absinthe) swigging, chess-playing doctor; gentle Ostrich (who may be poor but is not a savage as she has rosé) and more; and provides the screaming baby sound effects, and rocks the boat. The courtship via panpong and pillow fights, sleeping, creeping and sweeping in Marie Antoinette's bed, and seaside frolics is sweet but empty as true identities remain elusive.
So many excellent raw materials but somehow the parts don't gel and the play never really hits the mark. Too many overlong distractions and meanderings divert the attention and interest in the premise is lost. Adding little, audience participation is engaged via University Challenge, auction and a poignant copycat sequence while the conceit of timelessness and disconnect prevails with key cards, computers and TV jostling with petticoats, bicornes and 18th century ambience.
Michael Vale's simple set is genius. Three flowing curtains dominate as a Tricolour backdrop while seating is arranged on three sides of a large raised decking square complete with trapdoor... and rockers. Such a simple idea but superbly effective as a storm-hit ship lurching violently as the fugitive finds his sealegs and, with one set of legs engaged, an out-of-kilter sloping Antwerp.
Talented actors, has its moments but disappointing.
Reviewer: Karen Bussell