Natalia Osipova—Pure Dance

Sadler's Wells
–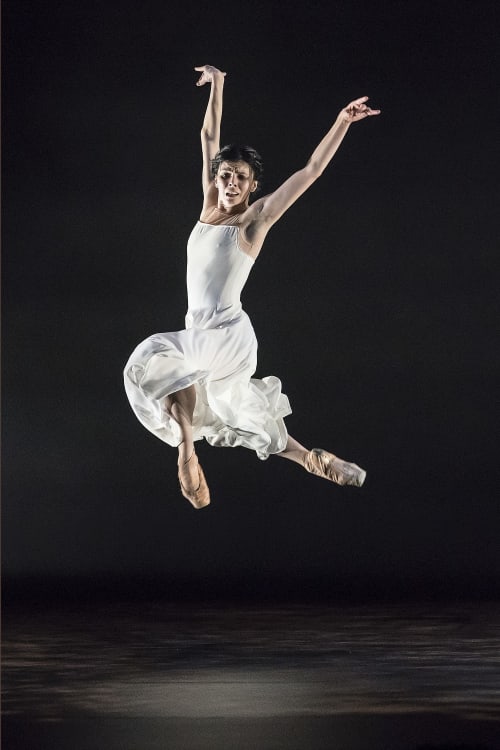 Natalia Osipova is one of those exceptional ballerinas who at the height of her ballet career, is still totally driven to experiment outside the constraints of classical repertoire. Tonight proves that such range knows no bounds in terms of the ballerina's physical ability to express deeply felt emotion through movement. Osipova has nothing to prove, yet the sheer joy and pleasure she finds in dance of any form radiates off the stage like being bathed in warm sunshine.
Pure Dance, curated by Osipova, pretty much for herself, offers the perfect play space to experiment. The problem is, with a mixed bill of seven pieces, it's hard to know where to focus. It's frustrating to be lulled into such magnificent dancing, only to be pulled away after seven minutes. It means that the constantly shifting sands challenges concentration, as no sooner as you enter the world of the piece, it's over and onto the next.
The show opens and closes with familiar modern classical pieces to keep ballet fans happy. Antony Tudor's, The Leaves are Fading, is beautifully executed modern classical piece and showcases the symbiotic partnership between Osipova and ABT's David Hallberg. The problem is that there's no space for the audience to build emotive responses to such superb movement opening on a crescendo and staying there for seven minutes.
Flutter by Ivan Perez, coupled alongside Rambert dancer Jonathan Goddard offers a gorgeous experimental piece playing with light and darkness as the couple run to a pool of light and then swallowed back up into darkness at the back of the stage. Whether or not it evokes a "world in suspended flight," there are some wonderful passages of ariel movement explorations that draw out Ospiova's impressive elevation.
Act Two is far better balanced in terms of choreographic offerings. It opens with Israeli choreographer Roy Assaf's Six Years Later. Here, at last, is a piece that allows for the audience to grapple with intrigue and space. At least 22 minutes offers the audience a chance to travel alongside the performers in a journey that charts the ups and downs of a bumpy romantic relationship. It's a moving, emotionally absorbing piece with detailed sequences suiting Osipova, paired with her real life partner, Jason Kittelberger, perfectly.
There are also moments of stillness in amongst what can only be described as stage combat inspired movements, alongside beautifully floating synchronized hands and arms locking in unison to counter violent fighting. The piece throws up questions rather than answers as the couple stand opposite each other bashing shoulders painfully like rutting deer. The music is also refeshingly diverse. When the classical score bleeds into party style pop and the couple break out of dance, into gesticulating conversation, there's an engaging change of pace as the audience are focused on deciphering words not movement.
Ave Maria, Yuka Oishi's serenely choreographed piece based on Schubert's setting of the prayer is a mini slice of heaven. The soft delicate choreography utilises Osipova's feline femininity that radiates through in the floating, light movements, but also proves her strength. Yet again, the only frustration is that it's all over too quickly.
The final two pieces end on a classical note. Alexei Ratmansky's Valse Triste, set to music by Sibelius, is an airy and playful piece where Osipova is perfectly partnered with Hallberg. There is real joy imbued in awe inspiring classical dexterity with jumps that see Osipova take off like a bird in flight, especially when she runs and jumps at Hallberg that feels like freedom of contact improvisation than ballet in her execution.
While the success of the programme is mixed, Osipova proves herself unquestionably as the towering female warrior of classical ballet, powerful, lithe and capable of slipping between dance forms with an inspiring easiness. It's as if the ballet star craves the opportunity to show off her huge range and ability to dramatise movement classical or contemporary and here at Sadler's Wells she has the freedom to play. While some pieces work better than others, Osipova is never less than brillant from curtain up on.
Reviewer: Rachel Nouchi