Nativities
Zoe Cooper
Live Theatre, Newcastle
–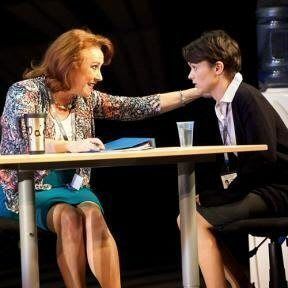 Set in a not terribly successful call centre in Newcastle but which could, in fact, be anywhere, Nativities follows the lives of six people, five of whom work there and one who is married to one of the workers. It's a hot summer, the air conditioning has failed and private lives and relationships are tangled to say the least.
Writer Zoe Cooper worked in a similar environment after leaving university and her understanding of office politics and relationships comes across clearly. She also has a good ear for dialogue, capturing the way in which her characters don't really listen to each other but follow their own lines of thought. They're very recognisable too: we've all met them all at some time.
And herein lies the problem with the play: the focus is so much on the characters that the narrative is lost. In a series of eighteen scenes, with sometimes longish set changes between them, we swap between them at work and in some cases at home which produces a number of possible plot lines, all of which seem to have equal prominence.
At the end of the first act, which comes in at just over 70 minutes, we are really not sure where the play is going: is this the story of newcomer Stella? of Clive and his midwife spouse Louise? of Chelle and her unwanted baby and her desire to get "bladdered" every weekend? of Madge and the family which doesn't seem to want to know her? of David and his convoluted love life, ambition and engagement to the boss's daughter?
Frankly, by this stage we don't really care. This exposition has gone on for too long and we've changed focus so often that we're a tad confused and have lost interest in the characters.
But after the interval the focus narrows and the narrative becomes clearer, the black humour comes more to the fore, we—the audience—begin to feel more involved and the climax, when it comes, is powerful.
It must be said that there can be no criticism of the performances. The company—Paul Woodson (David), Samantha Neale (Stella), Christopher Connel (Clive), Phillipa Wilson (Louise), Melanie Hill (Madge) and Laura Norton (Chelle)—bring them to full life and convince totally and Max Roberts's direction keeps the piece moving at a good pace.
Nativities, as it stands, feels like a early version of the final play. The first act needs significant pruning to focus the audience's attention where it should be and tighten up the narrative. The actual dialogue is compelling, realistic in that it does mirror everyday conversation in all its self-absorption and reflective of the characters. Indeed the characters themselves are well-drawn and believable but the constant switching from one to another and the multitude of plot lines which are given equal prominence are issues which must be addressed to allow the play to achieve its promise.
Reviewer: Peter Lathan