Nativity! The Musical
Debbie Isitt
Birmingham Repertory Theatre
The Lyric, Theatre Royal Plymouth
–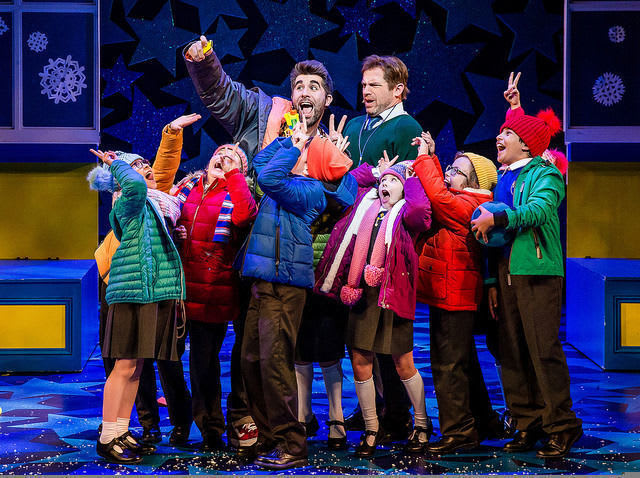 It's sparkle and shine all the way as Nativity! The Musical ramps up the Christmas feelgood factor and kickstarts the run of festive offerings in Plymouth.
Debbie Isitt is all over this production. As original screenplay writer and director of the hit film which spawned a successful series (with Nativity 4 said to be in the pipeline), she is writer, director, co-composer and co-lyrist of the straight-out-of-the Christmas box musical which opened to acclaim in late October.
The storyline doesn't stand up to great scrutiny and there are a few loose ends but who cares when there is glitz galore, pyrotechnics, cute kids, an even cuter (long-suffering) dog and plenty of laughs? There are up-to-the-minute references and a bit of celebrity-bashing to add to the fun although the homophobic overtones are somewhat disturbing.
Downtrodden Mr Maddens (Daniel Boys) is a failed actor and failing primary school teacher. Hating Christmas since the lovely Jennifer (a finely tuned Sarah Earnshaw) burst his baubles by following the call of Hollywood, he is tasked with saving St Bernadette's from Ofsted-induced ignominy by producing a five-star Nativity from the dregs of a small class of, in his jaded opinion, ne'er do wells.
To add to the pressure, latter-day drama school bestie and recent arch rival Gordon Shakespeare (Andy Brady)—whose private school munchkins ordinarily sweep the board with superlative reviews, trophies and accolades—is on his case with a dynamic, dark and bloody rock opera (including definite Jesus Christ Superstar riffs) in competition.
Oh, and there's every teacher's nightmare: teaching assistant Mr Poppy. The man-child, attention-deficient conduit of bonhomie, truth, daftness and self-realisation is dropped onto the weary Maddens to assist with the school's salvation.
Simon Lipkin is cringingly believable as the hyper pupil-pleaser naïf, making the most of his gift of a part, but jarring as the suddenly sensible commentator here and there. Difficult—and breaks the spell. But he delivers with great humour and engagement cornering almost all the laughs.
There is no subtlety in David Woodhead's set and costume design: garish colours, plenty of twinkle, death-sliding angels and suspended tinsel stars backdrop gyrating (and thrusting—hmm) wise men, missing Marys, feuding luvvies, dancing trees, celeb city and an upbeat Nazareth.
But it is the kids who steal the show. Loads of them alternating night after night on tour. Cute, crazy, petulant and precise, this rabble can most certainly act, dance and sing. Absolutely tremendous.
It's an all-singing (to great live music courtesy of musical director Michael Riley and his band in the pit), all-dancing (a fab job by choreographer Andrew Wright except the jury is out on the groin-clutching and bump'n'grinding) spectacle to delight the whole family.
Reviewer: Karen Bussell