Nativity! The Musical
Book by Debbie Isitt, songs composed and written by Debbie Isitt and Nicky Ager
Birmingham Repertory Theatre
The Lyric, Theatre Royal Plymouth
–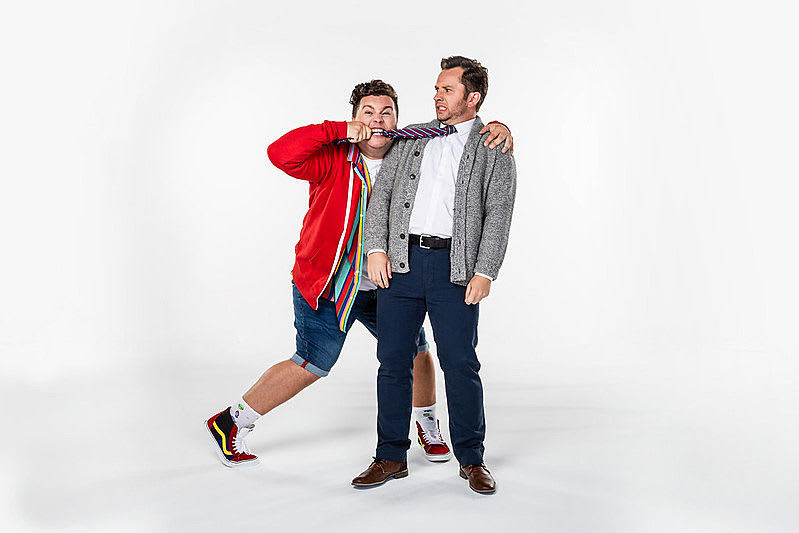 Looking for sparkle and shine to kickstart the Christmas bling and glitz? Then look no further, Nativity! The Musical is back.
Original screenplay writer and director of the hit film which spawned a successful series, Debbie Isitt, is writer, director, co-composer and co-lyricist of the fast-becoming-a-classic festive offering with pyrotechnics, aerial acrobatics, cute kids and much whimsy and humour (plenty for mum and dad as well as the children).
Tasked with saving St Bernadette's Primary from Ofsted measures by producing a five-star Nativity play (oh it were so easy), downtrodden Mr Maddens (Scott Garnham believable as a mere Christmas-hating cipher since his girlfriend burst his baubles by leaving him for across the pond Tinseltown dreams) has the added problem of hyper teaching assistant Mr Poppy (an ebullient Scott Paige) to tame and his childhood bestie and now power-mad rival Mr Shakespeare (Charles Brunton) hell-bent on ensuring failure.
Paige makes the absolute cringeworthy most of the part of scooter-riding, pupil-pleasing, attention-deficient, naïf man-child Mr Poppy as his enthusiasm and Maddens's world-weariness results in a futile but fun visit to costume rail-ridden Hollywood, a death slide from Coventry Cathedral spire and—spoiler alert—snatching the girl (Doctors' Ashleigh Gray as Jennifer) from the grip of boss from Hades (but with a melting heart) Polly Parker (Love Island's Dani Dyer).
David Woodhead's set and costume design is all garish colours and plenty of sparkle—an apt backing to boyband (five) wise men, missing Marys, uptown funky Nazareth, buildings spring a leak, switching sob story Josephs and singing on a star or two. Dan Glover in the pit keeps the band under tight control varying from the sweet ("Wrapped In A Rainbow", "Dear Father Christmas") through the upbeat "Sparkle and Shine" to the downright dark and bloody "Herod The Rock Opera" (including definite "Jesus Christ Superstar" riffs) as Andrew Wright's choreography explodes in a twinkle of simmer and shine, hip hop, breaking, popping and house with just a little bit of gyrating and hip-thrusting.
But it is the ever-tolerant Cracker (Pepper), the very sweet pup and the fabulous kids—heap upon talented heap of them rotating night after night—who really steal the show. Cute, crazy, petulant and precise, this rabble can most certainly act, dance and sing. Absolutely tremendous.
Reviewer: Karen Bussell