Dangerous Liaisons
Choreographed, directed and designed by David Nixon / Music by Vivaldi
Northern Ballet Theatre at the West Yorkshire Playhouse and touring
(2004)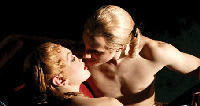 Northern Ballet Theatre, after struggling through a few difficult years and inflicting some pretty dreadful works on the public, has emerged from the wilderness with a vengeance. Under the direction of multi-talented David Nixon the company has delighted audiences with new productions of A Midsummer Night's Dream, Madam Butterfly and a hugely enjoyable reworking of Swan Lake set in turn-of-the-century New England. Critical reaction has been more muted, and it has to be said that NBT's fondness for making dance versions of well-known classic novels (Wuthering Heights, Dracula, A Christmas Carol and many, many more) is hardly adventurous. But if you like your ballet strongly dramatic, visually gorgeous and full of familiar music - and many people obviously do - NBT productions, like the Penguin Classics on which so many of them are based, are almost guaranteed to please.
Nixon's new ballet Dangerous Liaisons, based on the novel by Laclos and the play by Christopher Hampton, is something of a departure for the company in that an actress (Patricia Doyle) plays the Marquise de Merteuil as an older woman looking back on her ruthless career. She remains on stage throughout, interacts with the dancers and provides a commentary on the action, which at several points would be almost incomprehensible without Doyle's interjections - Laclos' tale of depraved French aristocrats is very complicated, and there is a limit to how many locations a permanent set can suggest, however beautifully lit it may be. This device works reasonably well, but the commentary itself is not a model of clarity and would benefit from being extensively rewritten.
Anyone familiar with the novel, play or film will realize that the plot is a gift to any choreographer - multiple seductions, betrayal, revenge, elements of black comedy and lots of people in beautiful eighteenth century costumes. Dixon provides memorable pas de deux for Valmont (a splendidly saturnine Jimmy Orrante) and the three women in his life - the icy Merteuil (Natalie Leftwich), innocent bride-to-be Cecile (Georgina Roberts) and tragic Madame de Tourval (the exquisite Chiaki Nagao, a dancer who can convey more emotion with one gesture than many an actress can hope to do with an entire soliloquy). Vivaldi's music, despite being culled from three of the Four Seasons and twelve of that prolific gentleman's 450 concertos, is remarkably successful as a story-ballet score and really comes into its own in the delightful ballroom scenes. One curious detail: a clumsy "false ending", when the disgraced Merteuil leaves the stage in the company of her future self and the corps de ballet dance across the stage. At the performance I saw the audience understandably assumed that the ballet was over and applauded enthusiastically, only to discover that it wasn't .
All in all, despite a few lacunae (would Merteuil really shove Madame de Volanges off a sofa, even though the latter is rather oddly characterized as a Merry Widow type?) Dangerous Liaisons will no doubt delight NBT's loyal fans up and down the country. I look forward to seeing their new production of Peter Pan at Leeds in December.
West Yorkshire Playhouse until 11 September, then at Norwich Theatre Royal 16-20 November
Reviewer: J. D. Atkinson