Neighbourhood Watch
Alan Ayckbourn
Richmond Theatre
–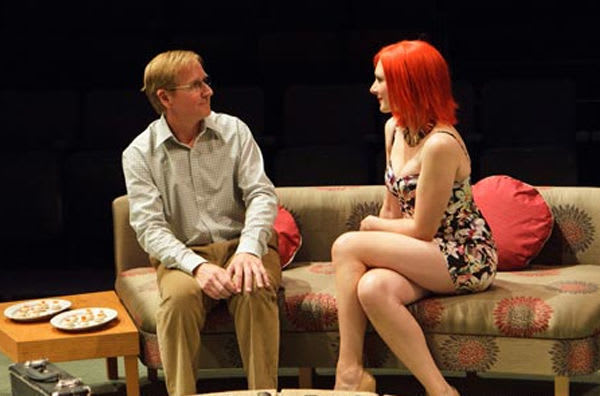 "Tea first. Then war." In Middle England, on the Bluebell Hill Development, trouble is astir. A series of crimes and anti-social acts have unsettled the community, the finger of blame pointing squarely toward the nearby Mountjoy estate—"a cesspit of violence and incest," according to one especially vehement resident.
Newly arrived in the community, devout, devoted brother and sister Martin (Matthew Cottle) and Hilda (Alexandra Mathie) find themselves at the helm of a neighbourhood watch committee, leading a motley crew of community members—including ex-security guard Rod (Terence Booth), the gossipy Dorothy (Eileen Battye) and Gareth (Richard Derrington) and his slutty wife Amy (Frances Grey)—as they debate how best to tackle "the yobbos." But it's not long before internal tensions start to surface, and the group finds itself resorting to evermore questionable tactics in order to ensure security for the community.
Alan Ayckbourn's latest play—his 75th—offers a blackly comic take on the vigilante-ish underpinnings of neighbourhood watch schemes. As often in Ayckbourn-land, proceedings start out in reassuring sitcom mode before attempting to venture into darker, more unsettling terrain. Interesting issues are touched upon; there are some good observations and decent comic moments. But still the play comes out a tad mild and mediocre: neither frenzied enough for farce (upon the brink of which the action frequently teeters) nor deep enough for drama.
Since the residents' concerns never seem to have that much foundation—we're encouraged early on to see them as a bunch of meddlers and paranoiacs, some considerably less "well-meaning" than others—the impact of the play's debate about how a community might deal with criminality is considerably weakened. Ayckbourn's plotting grows increasingly fanciful—would teenagers really submit to being placed in the stocks for swearing in public?—and the final developments are neither chilling nor funny: they're just silly. The playwright's thesis (well-meaning idealists do damage) is obvious, and so, sometimes, are his tactics for establishing character: the "provocative" Amy teeters in on high heels, red-haired, short-skirted, foul-mouthed.
Despite these shortcomings, a cast made up mostly of Ayckbourn veterans do good work. Although the character's dalliance with Amy strains credibility, Matthew Cottle is excellent as Martin, nicely communicating this mild-mannered man's growing unease with the group's methods. Alexandra Mathie does well to make some sense of Hilda's rather bewildering trajectory from meek gentility to steely Machiavellianism, though a late "twist" that Ayckbourn unnecessarily places on the character may strike some as mildly offensive. Terence Booth is spot on as the gung-ho Rod, and Amy Loughton hits a few touching. low-key notes as Martin and Hilda's abused next-door neighbour Magda. There are, to be sure, some entertaining moments in Ayckbourn's production. Still, an average episode of David Renwick's One Foot in the Grave offers far more subversive and cutting comic insights into suburban strife.
Running at Richmond until 11th February. Then touring to Theatre Royal Bath (13 - 18 February), Everyman Theatre, Cheltenham (20 - 25 February), Devonshire Park Theatre, Eastbourne (27 February - 3 March), Watford Palace Theatre (6 - 10 March), Oxford Playhouse (14 - 18 March), Theatre Royal Windsor (19 - 24 March), Tricycle Theatre, London (10 April - 5 May).
Reviewer: Alex Ramon