Neighbourhood Watch
Alan Ayckbourn
The Stephen Joseph Theatre Company
Theatre Royal Windsor
–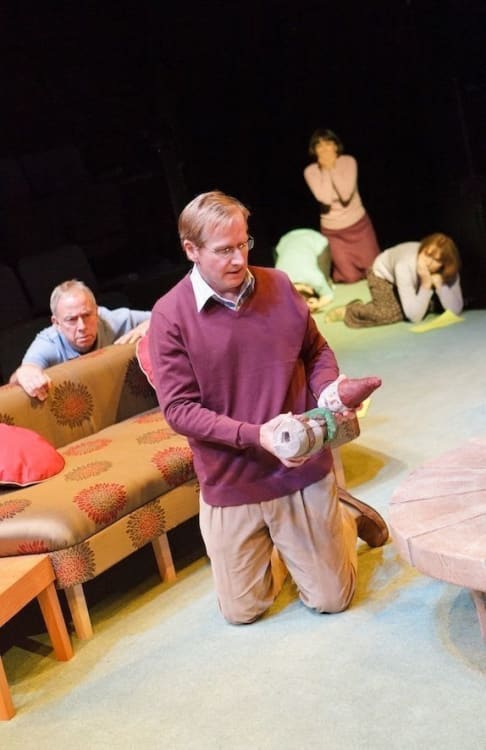 With the current financial crises hitting the police force who may have to reduce the number of officers on the beat and the latest news of an American member of a Neighbourhood Watch team killing a young boy, Alan Ayckbourn's Neighbourhood Watch written in 2010 is absolutely apposite.
This is the dramatist's 75th play, a remarkable record and it is a sharp, well-crafted, dark comedy that addresses the issues of law and order, the breakdown of trust between the police and the public, feral youths ruling the streets and what happens when a community takes the law into their own hands.
The Bluebell Hill development is an idyllic privately owned estate where middle-aged brother and sister Martin, the excellent Mathew Cottle, and Hilda, splendidly portrayed by Alexandra Mathie, have recently moved.
They are unmarried Christians and are holding a house warming party for their new neighbours. The only problem is the nearby Mount Joy council estate overrun with, "drugs, guns, violence and incest."
When Martin discovers a young boy taking a short cut through his garden, he accosts the youth taking a small case from him and so a Neighbourhood Watch scheme is formed to protect the estate.
Terence Booth is the fearful former security guard Rod who suggests that they build wire fences with razor wire on top to keep out trespassers and local gossip Dorothy (Eileen Battye) can always be relied upon to keep everyone updated on the latest juicy news.
Former Welsh engineer Gareth (Richard Derrington) builds stocks to be placed on the mini roundabout at the entrance to the estate to place miscreants while his sexy red-haired wife Amy (Francis Grey) has desires on Martin.
When Martin's precious garden gnome is thrown through the window, precautions escalate and the estate now becomes a gated community with security guards and regular patrols touring the streets armed with baseball bats.
Sub committees are formed to monitor morals, security passes issued and checks are made at the gate to track the amount of alcohol brought into the estate. The Neighbourhood Watch are taking draconian measures to protect themselves.
Even music teacher Magda (Amy Loughton) seeks refuge from her bullying, violent husband Luther (Phil Cheadle) and so the enemy is within and not just from the Mount Joy Estate.
But all this intense action heightens the fear and paranoid behaviour of the members of the Neighbourhood Watch and anarchy takes over with catastrophic results.
Ayckbourn had assembled an excellent cast and directs with impeccable flair and proves that he is still the genius of black comedy.
Reviewer: Robin Strapp