Nell Gwynn
Jessica Swale
Apollo Theatre
–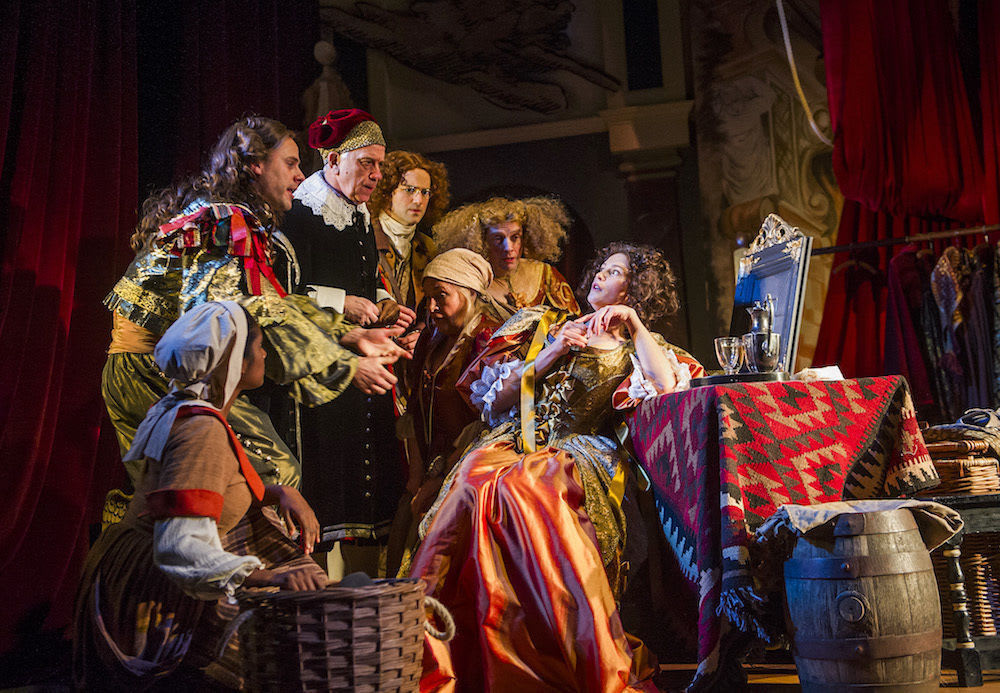 Christopher Luscombe's lively production of Jessica Swale's bawdy Restoration comedy transfers successfully from Shakespeare's Globe Theatre to the West End.
Nell Gwynn, one of the most famous actresses of the Restoration era, ended up in King Charles II's bed. Not bad for a girl brought up in a brothel run by her mother in Coal Yard Alley in Covent Garden.
One of the very first things King Charles did when he returned from exile in 1660 was to reopen the theatres. He loved theatre. They had been officially closed since 1642.
Dear reader, imagine living in Cromwell's Puritan England. What would we theatregoers have done for 18 years?
Actresses appeared on the British stage for the first time. Nell Gwynn (1650-1687) was illiterate. She learned each part by repetition. She excelled in "breeches" roles, which allowed her to show off her legs.
She appeared in the plays by John Dryden, most notably in Maiden Queen. She was better at comedy than tragedy. Inveterate theatregoer Samuel Pepys was a drooling fan.
Court painter Sir Peter Lely painted her in the nude.
Playwright Aphra Behn (the first English woman to earn her living by writing) said of her that "it was if she had been made on purpose to put the whole world into good humour."
Nell Gwynn was famed for her oranges, pert beauty, verbal wit, promiscuity, profanity and bawdy humour on and off-stage. It is said she once slipped a laxative in one of her rival's tea-cakes.
Gemma Arterton has all the requisites for the role plus a strong feminist streak. I particularly enjoyed the witty innuendo with the King and her leading actor, James Hart.
Arterton is adorable and David Sturzaker as the King and Jay Taylor as the actor have style, wit and bags of charm. The sexual raillery is the verbal high spot of the play.
Jessica Swale does not pretend to be historically accurate. Much of what we think we know about Nell Gwynn is apocryphal, anyway. In real life she gave up the theatre. In the play she returns to the stage after the King's death for an up-beat ending.
However, Edward Kynaston, one of the last boy actors to play female roles, has asked me to point out that he was not the outrageously rotten actor Grey Haiste is made to present on stage.
Historical note. Actresses have, quite rightly, been complaining that there are more roles for men than there are for women. One way to address the problem nowadays is to have all-female casts.
You may be interested to know that the first time an all-female company appeared on the London stage was in 1664 in Thomas Killigrew's The Parson's Wedding. I do not know the play but Samuel Pepys said it was obscene. So a revival with an all-female cast could be very popular.
Reviewer: Robert Tanitch