Nell Gwynn
Jessica Swale
English Touring Theatre
Grand Theatre, Blackpool
–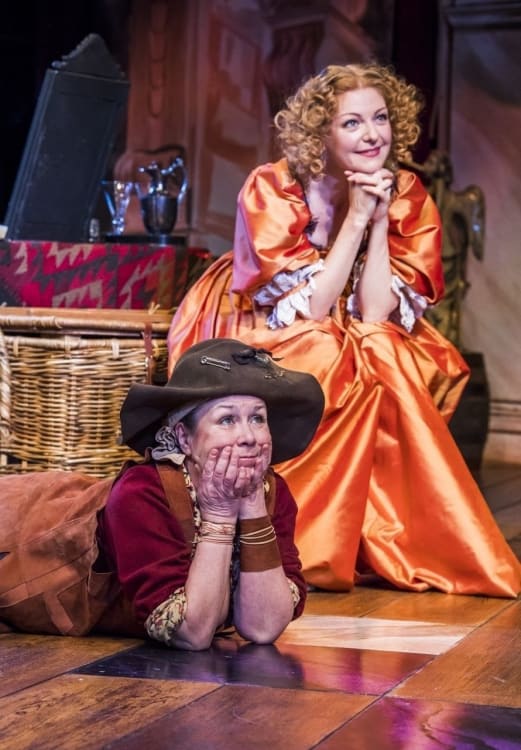 This could be a Restoration Comedy for our own uncertain times...
One where there's still an ongoing debate about gender—and the part it plays in culture—and one that very definitely restores Carry On Campness to its rightful place in the history of low British humour.
Jessica Swale's Olivier-winning comedy was designed for performance at the outdoor Globe theatre in London and after this UK tour it's headed back there for a revival.
In the meantime it certainly does not look, or feel, out of place here. Hugh Durrant's stage set fits seamlessly into this venue's own Grand design, and even uses the theatre boxes to initial effect. And where better to celebrate British bawdiness?
Instead of any historical drama about the infamous London orange seller who appealed to a king, Swale delivers a rip-roaring, often risqué, cartoon strip about the woman who not only crossed a social divide but became one of the country's first-ever female actors—when they used to be called actresses.
And it would be easy to swap Carry On characters like Messrs Williams, Hawtrey and James for some of the historical figures on show here. In the title role, Laura Pitt-Pulford is certainly blessed with the sparkling candour and charm of a Barbara Windsor.
Opposite her, Ben Righton, as Charles II, cannot help sounding and looking like David Walliams in a spaniel wig, so is more than kingly enough. Casting throughout has all the usual hallmarks of an English Touring Theatre performance—their fourth major production currently on tour.
As Horrible Histories for Hadults, Nell Gwynn is at its best when it plays straight to the audience; includes them in its 'behind the scenes' play rehearsals; or just proves itself contemporary enough to throw in a Brexit gag, or two (just in the interests of balance you understand).
A high-class, low-humour romp!
Reviewer: David Upton