Nell Gwynn
Jessica Swale
English Touring Theatre
Malvern Theatre
–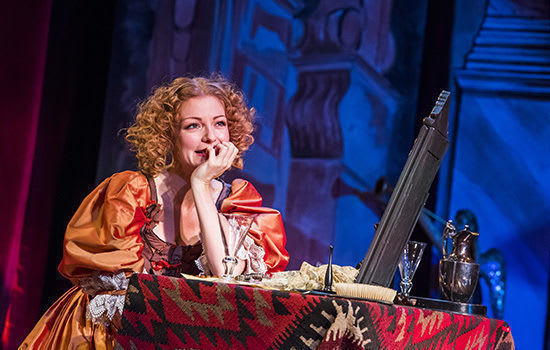 Orange-seller, King's mistress, the one he wouldn't let starve. There cannot be many figures in English history who are so familiar yet about whom most of us know so little.
Jessica Swale's play remedies that, seeking to present Nell Gwynn's affair with Charles II as a genuine love-match, and concentrating on her success as one of England's first female actors.
This is nevertheless a comedy, more of a Horrible History than a documentary, and unlike that series it doesn't pretend to be 100% accurate.
This was in truth a world in which male audiences came to see the actresses' curves rather than hear their lines, and could pay an extra penny to see them change.
There's a touch of the Carry-on about proceedings. "I swapped selling my oyster for my oranges," confesses Laura Pitt-Pulford's Nell, and, with all the talk of old (croquet) balls and royal sausages, I almost heard Kenneth Williams's cry of "Infamy, infamy. They've all got it in-for-me".
Pitt-Pulford dominates the action, from the opening when she out-heckles a heckler, to her return, like Bottom to the Mechanicals to save the players at the end of the day.
It's a performance of energy and charm fit to captivate a king, and if—despite a talent for bawdy badinage—it sometimes seems she was born to be more Pall Mall than Cheapside, it makes the piece seem more like a modern Royal romance.
Ben Righton's Charles seems a rather likeable, decent chap for a man with 12 or 13 illegitimate children—he must have lost count—and there is strong support all round, especially from Esh Alladi as a flouncing Kynaston—the female impersonator whose job is threated by the new fad—and Michael Cochrane as Arlington.
There is a splendid, witty first confrontation between Nell and the King, when she refuses his repeated invitation to dinner (and who knows what dessert), but the most amusing scenes are in splendid theatrical send-ups, with Sam Marks as the actor Charles Hart leading the way in striking David-Garrick attitudes.
With a grand Restoration stage set, a large cast and four musicians, with 40 early instruments packed into their gallery, it's a show that offers a little of everything: musical, romance, history and farce.
Reviewer: Colin Davison