Nell Gwynn
Jessica Swale
Shakespeare's Globe
Yvonne Arnaud Theatre, Guildford
–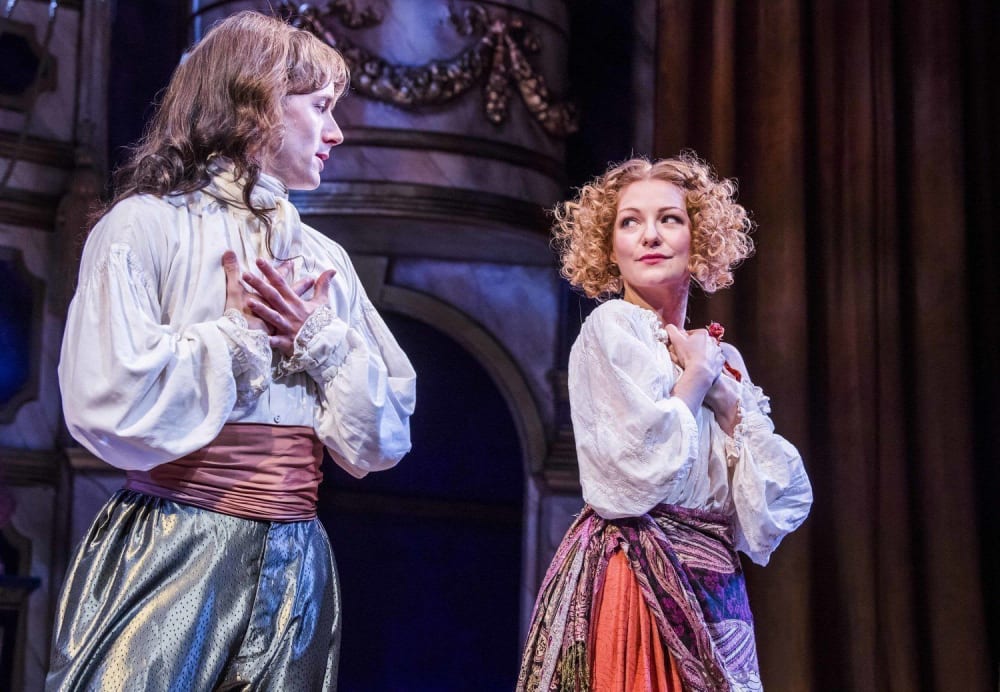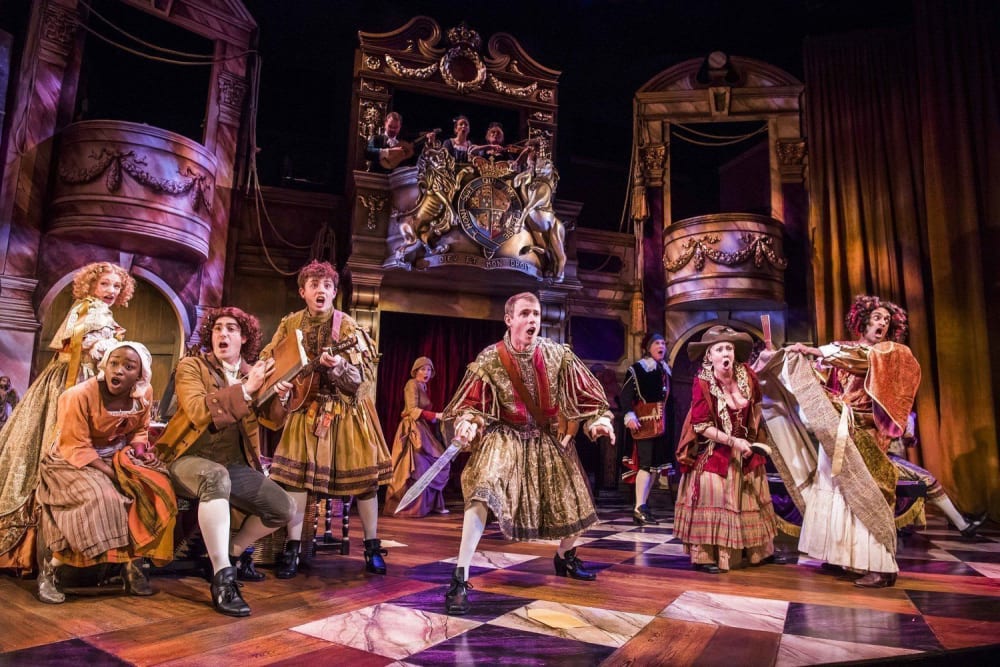 There is a lot of historical fact within this play and, although no way could it possibly be called a history lesson, it does give us a little more knowledge of a woman who not only sold oranges and beguiled a king but was one of the first women to appear professionally on stage.
This doesn't meet with the approval of Edward Kynaston (Esh Aladi) who, used to taking the female roles himself, insists that only a man can adequately play the part of a woman. To prove his point, he gives a very elegant demonstration of the language of the fan and is instantly upstaged by Nell with her own cheeky version in a very funny and very bawdy song.
English humour has always been a bit on the bawdy side. Swale suggests we regard any dirty jokes as "historical accuracy".
So far as accuracy is concerned, the characters are all real people and the play is staged in lavish period costume, but with speech in the vernacular bringing them to life more than a 17th century linguistic style would have done.
The casting is superb, most particularly Nell herself, perfectly portrayed by Laura Pitt-Pulford as a woman who "could put the world into good humour": happily effervescent, charming, irreverent and frequently saucy. Very easy to believe she could have charmed a King as she is so adept at charming the audience.
Events of the period are touched on very lightly indeed. The Earl of Arlington has to rush off to fight a fire, King Charles remembers the safe haven of his oak tree and, with memories of his father, has a meeting with Parliament. Also, and the most worrying, there is a new playhouse opening nearby which could affect their box office takings, although "Playhouses are a valuable asset to the community".
That last remark seems to be aimed at the government and very up-to-date, as are Nell's complaints about the lack of decent roles for women in Shakespeare's plays, but meanwhile the company must find new work to attract an audience.
This brings in Nicholas Bishop as playwright John Dryden who, for the sake of comedy, is indecisive, plagiaristic and never quite finishes a play. Not quite fair to his memory—but it is funny!
Sam Marks postures ostentatiously as the leading actor in the King's Company who first comes across witty Nell and hauls her onto the stage to teach her how to act. Joanne Howarth does double and very contrasting duty as the pious and reserved Queen Catherine of Braganza and as Nell's gin-soaked, brothel keeper mother, sister Rose is sweet, sensible and caring (how did that happen with such a mother?) and dresser Nancy (Mossie Smith) is a comical and endearing joy.
There are no histrionics for Ben Righton's King Charles who strolls calmly through all the jollification with an attitude reminiscent of today's modern Royals.
Hugh Durrant's set has some very opulent theatre boxes overlooking the scene occupied by either the courtiers or, more often, by the four musicians who, with music by Nigel Hess, keep the joyous spirit of the play very much alive and director Christopher Luscombe keeps up the pace and the comedy for all he is worth. A real crowd-pleaser.
This play is a very clever send-up of most of the characters but most of all great fun, presenting Nell Gwynn as someone you really would love to have known.
Reviewer: Sheila Connor