Nest
Anna Beecher and Rachel Lincoln
Akin Theatre in association with artsdepot
Attenborough Arts Centre, Leicester
–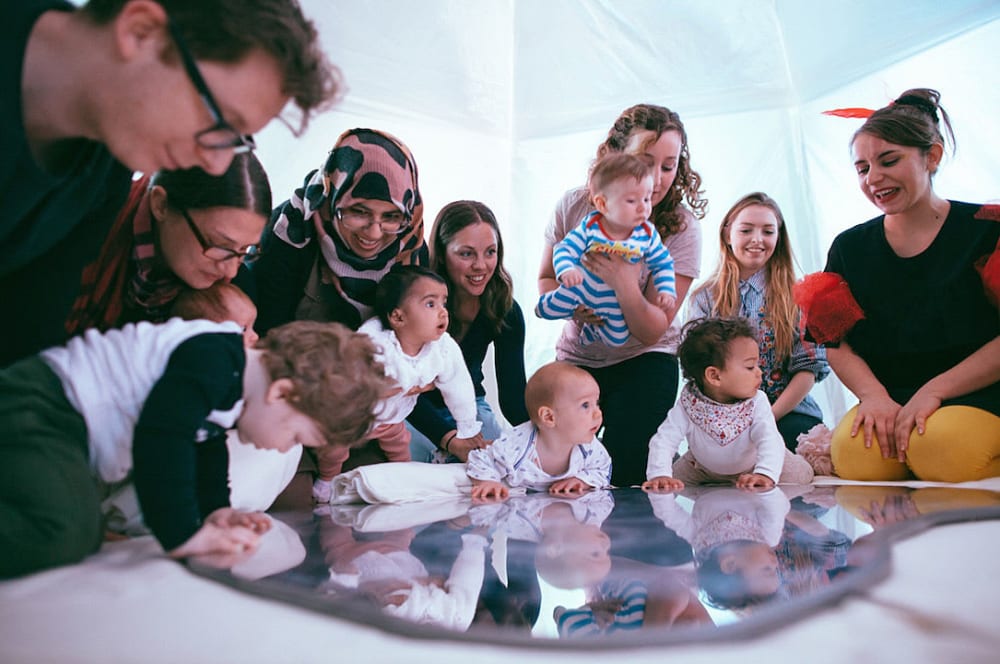 "This is the world and you are in it," say our two performers Emma Bentley and Louisa Hollway as they guide us—an audience of around 15 babies and their accompanying grownups—through a multi-sensory journey through the seasons in Akin Theatre's production Nest.
This performance is one of the opening productions in The Spark Festival, the largest children's arts festival in England and Wales running from 10 to 16 February. Born in 2003 as a 10-month project, The Spark Arts for Children has developed into a year-round children's arts organisation with a multi-art form programme of theatre, dance, music, visual arts and digital media events for young people aged 0 to 13 years and their families.
In one word, Nest is a joy. And words are important. Writer Anna Beecher with director Rachel Lincoln ensure that the aural pleasures of language come alive and combine with gentle sounds and visual and textural stimuli from the opening ting of a triangle to the final twinkling star-scape.
Aimed at the 0 to 14 months age group, Beecher and Lincoln's past experience as early years facilitators feeds into their work, and throughout (save a few inevitable frets and fusses), babies are mesmerised, keen to touch, explore and listen. Babies are fun to watch and this is no exception—babbling along with their individual responses to the sounds, their laughter, tears, and surprise, with eyes following the performers' every move.
The poetry throughout this 35-minute performance is alliterative and lyrical with lovely clusters of words and imagery: candy floss soft, blushing blossom, featherlight leaf, a russet rush. A red, feathery bird emerges in spring from a cracked egg and takes us through the colours, sounds, and textures of spring, summer, autumn and winter. Small fingers scrunch a soft green grass carpet, see themselves in a shiny mirror pond, feel chiffon rain on their faces and hear the buzzing of little woollen bees.
In performance, the terms "immersive" and "inclusive" can be rather liberally applied, and off-putting to some. Here, though, they are exactly right and to enter the dome, Nest's safe, relaxed space, and sit together cross-legged in a circle is to fully immerse oneself in this sensory delight.
There is a magical quality to this creative and well-crafted piece which hones in on what babies respond to and evident in the smiles and reactions of the grown-ups. Nest stimulates and soothes and is a charming way to connect and reconnect both with the very young people in our lives and the world around us.
Reviewer: Sally Jack