Never Lost At Home
Peter Rowe
New Wolsey Theatre
New Wolsey Theatre, Ipswich
–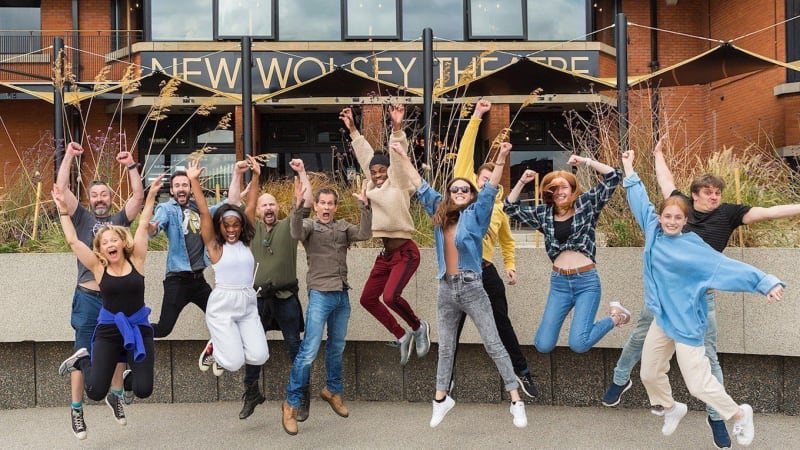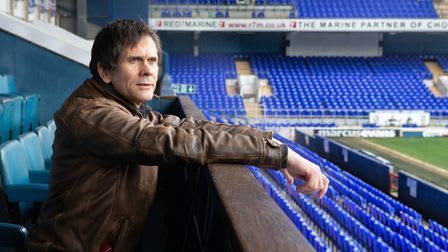 I must admit from the start I am no football fan—but you don't have to be to enjoy this superb return to live theatre for The New Wolsey with their latest musical combining the excitement of a classic sporting achievement with the best of '80s music, recreating an era that was economically challenging yet in local football terms reached a pinnacle that may not be seen again.
With Ipswich Town FC today languishing near the bottom of League One having had a couple of really duff seasons, it's easy to forget that they were once high flyers with a team of international repute.
Peter Rowe's latest musical is really a celebration of the glory days, and a tribute to arguably the best manager Town ever had: Bobby Robson.
This is in fact a prequel to Rowe's first Blues tribute—Our Blue Heaven—which focused on their 1978 FA Cup win. In that production, we were introduced to the superfan family of Sheila (Sarah Whittuck) and Paul (Richard Costello) with their kids Sue (Anna Kitching) and Scott (Joe Butcher), Scott's girlfriend Mel (Josie Dunn) and their friends Smudger (Keanu Adolphus Johnson) and Ange (Olivia Foster-Browne).
This sequel moves on a couple of years to the beginning of the '80s, and if there is a criticism it's that if you didn't see the first one you would feel you were coming into the middle of the story, with little time given to introduce us to the characters.
The family are still avid Town supporters, Scott and Mel are married and redundancy is in the air as the big local companies of Cranes and Ransomes start laying off workers in the face of a global economic crisis.
But in a lot of respects this isn't about them—it's about the Ipswich Town team and the man that took them so close to winning the treble, and Peter Peverley reprises his role of Bobby Robson incredibly well. He has the voice, the mannerisms and the stance, and he commands the stage as he gives his team talks to bolster the players and urge them onward and upward. His portrayal gives us the best of a very talented yet understated man and makes him the beating heart of this production.
Never Lost At Home basically tells the story of the 1980/81 season when Ipswich were in the running for three titles: The League, The FA Cup and The UEFA cup. Sensibly, Rowe does not try to recreate the football players on stage—just one is represented by New Wolsey regular Dan Bottomley playing Dutchman Arnold Muhren. But as Bobby gives his team talks, all the references to their talents or personal quirks bring them back to life.
The story is part-told through Robson and part through the family and their friends who decide between them to watch every single match, home or away, and cheer their team to victory. They are all very believable but particular mention should go to Anna Kitching playing daughter Sue, a member of The New Wolsey Young Company and superb with her enthusiastic portrayal of a young fan desperate to see her team succeed. (The role is shared with Abbie Griggs.)
Lots of use is made of projection with the football matches reimagined on screen by a 'chorus' of youngsters choreographed by Charlie Morgan, recreating the highlights of each match as a mime with the dulcet tones of Radio Suffolk's Mark Murphy providing the commentary. We also follow the family's European adventures via old cine footage that they take at each location.
There's plenty of humour (including regular Steve Simmonds making the most of a number of smaller support roles) and lots of '80s cultural references. And of course fabulous '80s music throughout played and sung live by the whole cast taking it in turns to dash up to the top and pick up a guitar or don some shades to recreate such hits as "Tainted Love", "Simply the Best" and "Everybody Wants to Rule The World".
Of course, it's predominantly about the football and there is a cornucopia of delights to thrill the most ardent of fans including an appearance on stage at the end by two Town legends, John Walk and Russell Osman, to the obvious delight of the packed New Wolsey audience.
This is a feelgood evening that is not only a nostalgic trip but a thoroughly great evening of entertainment. If you're a football fan, it's not to be missed. But even if you're not, it's a great show.
Reviewer: Suzanne Hawkes