Never Not Once
Carey Crim
Blue Touch Paper Productions in association with Park Theatre
Park Theatre (Park 90)
–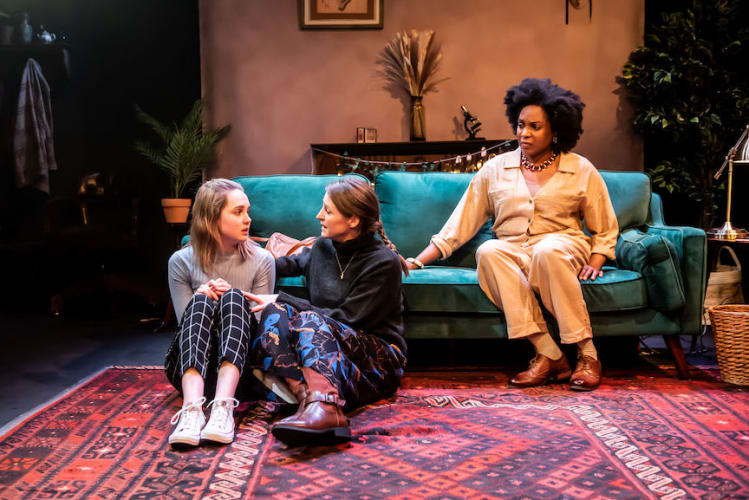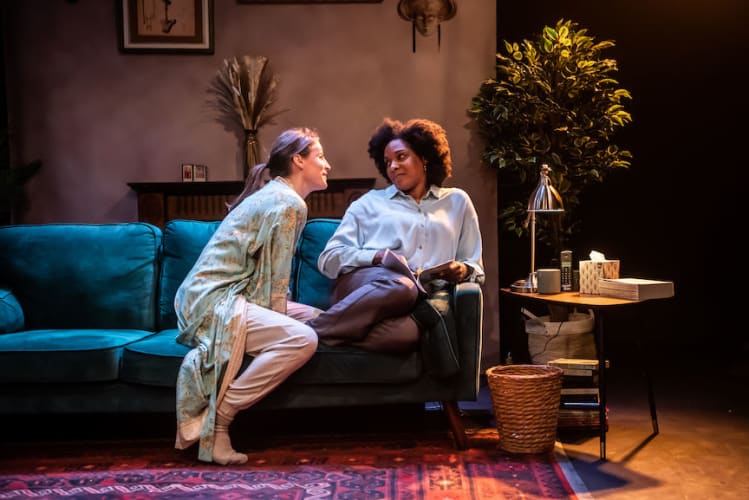 Winner in America of the 2017 Jane Chambers Playwriting Award which recognises new feminist plays, this is both a response to the #MeToo movement and a picture of a caring lesbian partnership.
Michigan-based Carey Crim presents us with college student Eleanor, brought up by two mothers, who wants to know more about her genetic inheritance. Birth mother Allison has always claimed she doesn't know who the father was, she has only a hazy memory of one night at a student party, but her daughter wants answers.
Alison's partner Nadine has always been told the same story but thinks there may be a hint in that she's heard a dreaming Allison say the name Douglas, and she tells this to Eleanor whose boyfriend has already engaged the help of a private investigator.
Something is not as it seems and Roisin Martindale's setting perhaps underlines this with a sofa set with its back close up to a fireplace and a wall with artworks, including Braque prints and ethnic objects, set well above sight level while a fine Persian carpet creates a clear space for confrontations.
Eleanor tracks down a man who seems to have been in the right place at the right time but he denies any involvement. But what happens when he thinks further?
Never Not Once gives a very positive picture of a lesbian relationship with a nuanced exploration of trust and commitment, equally positive presentation of mixed-race partnership and a searingly graphic description of rape and it gets committed performances from its cast.
Amanda Bright is warmly caring as NASA engineer Nadine, who came to the rescue of a desperate Allison soon after Eleanor's birth, Flora Montgomery captures the bottled-up angst of Allison and its explosion. With Eleanor collapsing in a panic attack, dramatically presented by Meaghan Martin, and Adrian Grove's Doug dissolving in guilty hysteria, it turns into melodrama; by comparison, Gilbert Kyem Jnr as boyfriend Bob seems ultra stable, but able to be no more than the token good guy.
Director Katherine Farmer drives things at a pace that helps to hide just how contrived all this is. These women are also church-going Christians, Amanda's father a preacher who supported his daughter's coming out and, when rejected by his old congregation, founded a new Church where gays and lesbians were welcome. Such things are to be celebrated but Never Not Once packs too much into its 80 minutes.
Never Not Once deals with important issues but relies on its actors to fill out its characters; defined and constrained by the plotting, they have to work hard to give them real life.
Reviewer: Howard Loxton