Never Forget
Music & Lyrics by Gary Barlow; book by Danny Brocklehurst, Guy Jones and Ed Curtis
Savoy Theatre
(2008)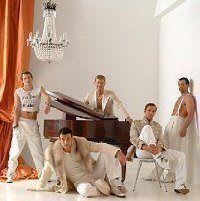 It has been over ten years since we heard the traumatic news that saw teenagers running for the phones to call the Samaritans upon hearing that Take That had split. More of an East 17 girl myself, I still remember that day well and whilst the come back of my personal favourite boy band didn't quite take off I was more than happy to welcome Gary and the gang back with open arms when they reunited.
However, another musical, following the example of shows such as We Will Rock You and Mama Mia... well, that I was a little more dubious about. Having completed its national tour, Never Forget has come to the Savoy Theatre where it seems crowds of adoring fans await.
This musical is not the story of Take That; it is rather the story of a group of lads who for various reasons join a Take That tribute act in the hopes of winning a talent contest. How do they do it? I hear you say. What ingenious plot will they think of next?
The truth is, this is a musical for Take That fans (of which there are plenty) and nothing more. Featuring virtually all of their greatest hits the production worked best when the songs were used as music for the various bar/club/salsa scenes or when the tribute band were performing as Take That. It didn't work however, when the songs were weaved into the virtually non-existent plot. The audience seemed to totally miss the point that it was meant to be a painful and emotional moment between the two leads when they sang "A Million Love Songs" to one another. Instead they giggled at the recognition of the song, joined in and then started waving their arms in the air. I was getting ready for the stewards to tell people off for getting their lighters out.
Dean Chrisnall as Ash who plays Gary Barlow in the band (are you following?) has a fantastic voice and Sophia Ragavelas as Chloe (Ash's girlfriend) was better than Lou Lou herself when she sang with the boys. Nevertheless great singing and dancing is not enough to hold a musical together. One must care about the characters which is difficult with cheesy acting and even cheesier dialogue, littered with cheap gags and interrupted every five minutes by an inconsequential dance break that does nothing to move even a simplistic plot along.
There were some impressive theatrics, combined with spectacular lighting from set designer Bob Bailey and lighting designer James Whiteside, which created several moments when I felt like I could have been at a Take That concert and despite my better judgement when "Relight my Fire" was performed in all its flaming glory I found myself unwittingly covered in goose bumps.
Throughout the audience were on its feet; whooping, clapping and singing along. As I said though, this is when this musical is at its best - when it is like a concert. This leads me to only one conclusion; why see a show about a tribute act when you could just see a tribute act, or, even better, now that the mighty boys (minus Robbie) are back together you could just go and see the real thing?
As I left the theatre humming classics such as "Pray" and "Everything Changes" I have to admit it was fun to be reminded of the soundtrack to my teenage years. However in terms of following the show's mantra "Never Forget", I've got to be honest, I probably will.
Visit our sponsor 1st 4 London Theatre to book tickets for Never Forget
Reviewer: Rachel Sheridan