Never Forget
Danny Brocklehurst, Guy Jones & Ed Curtis; Music & Lyrics by Gary Barlow
Opera House, Manchester, and touring
(2009)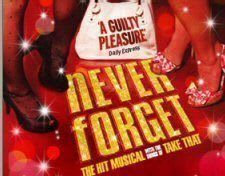 This juke-box musical based on the songs of 1990s Manchester boy band Take That has returned to Manchester to kick off a national tour after a West End run.
With a script co-written by acclaimed TV scriptwriter Danny Brocklehurst with Guy Jones and the show's director Ed Curtis, the story follows the fortunes of a manufactured band, put together by shady manager Ron Freeman as a Take That 'tribute band' to try to win a 'battle of the bands' tribute band competition. When Ron brings someone from the music business, Annie, to see the band, she is very interested in signing a contract – but only with lead singer Ash, not the whole band. Whilst Ash thinks about how the money will save his mum from having to give up the pub where they live, his mother is horrified that he would abandon his mates, and his fiancée Chloe, whose brother Jake is also in the band, agrees with her and is suspicious of Annie's motives, putting their relationship in jeopardy.
There isn't a great deal of originality in the storyline, but it is put together quite competently with a script that has some really witty lines (such as protesting that Take That isn't just a boy band, it's an M & S boy band, referring to the much-parodied Marks & Spencer TV ads that the band has appeared in) mixed with some gags that are taken over the line into tedious silliness. The principal performers all do an excellent job of putting across the comedy with some nice comic characters and a great deal of pace.
The difficulty with a show like this is to have enough of a story to justify calling it a show rather than a concert, while not boring those who have only come for the music and to see young men in their underwear with long stretches of dialogue. This production gets the balance just about right, while also keeping the dialogue lively, funny and pacey.
Formerly best-known as a Londoner in Eastenders, Shaun Williamson here plays manager Ron Freeman very effectively as a broad Mancunian a little like Bernard Manning, getting across all the humour in the part but also showing a tender side later on. Mark Willshire gives a strong performance in the central role of Ash Sherwood and displays a very good singing voice, supported ably by Aimie Atkinson as his fiancée Chloe Turner. Adam C Booth becomes the peacemaker of the group as Jake Turner; Tom Bradley gives a great comic performance as the rather geeky Adrian Banks; Philip Olivier as muscular ex-stripper Dirty Harry plays the stupid one of the bunch very effectively and Scott Garnham gives a superb performance as Spanish group member Jose Reize.
Morgan Large's set design uses four rotating panels as a backdrop that spin to change the scene, which is quite effective, and surrounds the stage with concentric circles of lights, which makes it look rather like a glamorous sewer. There are some quite spectacular, if sometimes gratuitous, special effects, the most impressive of which is the rain shower at the end of act one, which culminates in the writing of the words "never" and "forget" in falling droplets of water. The sound, very important for a show like this, is punchy and clear in the more sparsely-arranged numbers and the dialogue, but when the full band and chorus are involved it sounds like every element is competing for prominence, losing clarity and making it tiring to listen to.
There is nothing remotely original about this show, but it is fun and it certainly knows the audience it is aiming at, and they turned up in large numbers to clap and sing along to the extended finale.
Running to 18 April before touring
Reviewer: David Chadderton