Neville's Island
Tim Firth
Chichester Festival Theatre, presented by Jamie Hendry Productions, CFT Enterprises, MJE Productions & Gavin Kalin Productions
Duke of York's Theatre
–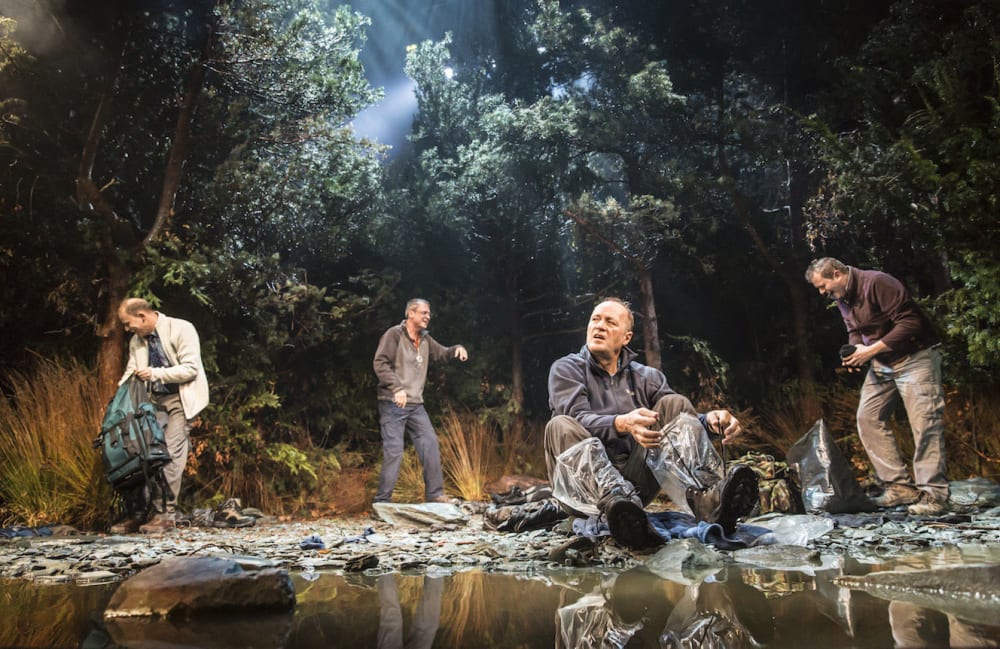 Four men, on one of those team-building, initiative testing exercises to which companies send their staff, find themselves stranded on an island in the middle of Derwentwater. Their boat has sunk, along with their emergency rations, and they are soaked to the skin with just enough juice for one call on the single mobile 'phone they have been allowed to take with them.
It all looks horribly realistic. Real water downstage at the shoreline and just a small patch of ground before tall trees of a menacing density tower up through the mist. Designer Robert Innes Hopkins has pulled all the stops out, abetted by Howard Harrison's lighting. What are we in for: an adult version of Lord of the Flies?
At times it does look as though things might go that way though with this cast of performers, best known for stand-up and television comedy, that won't be what the audience is expecting. Indeed, after each character's first entrance there is a physical running gag, a rather unrealistic one, that suggests it is more likely to turn into farce.
Under Angus Jackson's direction, there is always the possibility that this could go anywhere, and Tim Firth's script even allows for some symbolic mysticism, yet disappointingly it really goes nowhere. Perhaps because he just doesn't tell us enough about these people and their relationships.
All four are divisional directors in the same company. Neville, who has been made the leader of this group, seems solidly ordinary if a little lateral-thinking. Neil Morrissey makes him a considerate good guy. They presumably picked him as captain (though there is nothing in the text to support this) because back in the office he's the man on whom you can rely.
In fact it is he who has got them in this mess. Confronted with a direction to find the plough and then a green with a railing, he has rejected the obvious and gone for the cryptic, identifying the arrangement of islands as matching the pattern of the Great Bear constellation and ingeniously interpreting the rest as about a ring of garlic while the others groups have probably seen them as straightforward instructions and gone for a pub called the Plough.
It's not all Neville's fault. The director supposed to be acting as lookout failed to notice their boat was heading directly for rocks. It was probably Roy, a bird-watcher and committed Christian, who probably had his mind on his feathered friends or his Saviour. He's played by Robert Webb, who makes him rather charmingly innocent. He is also recovering from a loss of that put him on sick leave for months of psychiatric support, something that only Neville seems to know about.
Miles Jupp plays Angus. He seems play-safe suburban—he's filled his rucksack full of survival equipment and plastic wrapped changes of clothing his wife has packed for him. There is so much that it's a miracle he managed to get to the shore instead of being weighed down to lake bottom.
Then there is Adrian Edmondson (the only survivor from the cast when this revival was first mounted at Chichester last autumn) as Gordon. His kit bag has gone to the bottom, though Angus has enough spares to re-clothe him. Fed-up and acerbic he must have loathed the idea of this exercise in the first place.
That, of course, is the main joke of Firth's play. This lot are all pretty wimpish, exactly the opposite of the alpha-males who would be up for this kind of competition; the boy scout bugle calls that mark scenes moving on are ironic ones.
Apart from a brief imaginary threat, there is no real challenge to stimulate action and nothing really happens until the strange final scenes. These characters' conflicts are petty and there is little that is really revealed by their interaction either about life back in the office or developing between them through this experience. The story is just their situation and the humour in the opportunities for gags, though there are enough of those to keep most of the audience happy for much of the play's two hours (plus interval).
Although the production stays in the realm of the naturalistic, lit by firework effects and a complete sound picture of a passing ferry, it doesn't draw you into the lives of these men and there are no dramatic fireworks but a dramatic dampness enlivened by comic crackerjacks.
When these guys find a flare that could have brought them rescue earlier, it is just too late, when its use would be useless. When Firth's plot starts offers something surprising and could take off in a new surreal direction, that too comes too late.
Since first staged at Scarborough in 1990, Neville's Island has seen many productions and this one was greeted enthusiastically at Chichester. It 's just not my cup of tea.
Reviewer: Howard Loxton