Newley - The Fool Who Dared to Dream
Created by David Boyle and Peter Gallagher
Upstairs at the Gatehouse
(2008)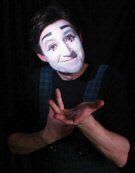 I am a great believer in theatrical simplicity; unless you can toss a million into a show and spread out a huge cast amongst really lavish scenery, it is best to keep a production uncomplicated. This way the imaginations of your audience can match the atmosphere created by the actor .
Those sensible sentiments are not my words but Anthony Newley himself, speaking about his musical Stop the World - I Want to Get Off when it was first produced in 1961. Director Peter Gallagher and performer David Boyle have clearly taken them to heart in mounting this show that celebrates the songs he wrote and chronicles the life he led.
With no more than a backing of black sprinkled with tiny bulbs like a night sky and a stepped rostrum hiding a props table, three stand mikes and a chair and a costumes on a couple of coat-stands they have mounted a show that is good to look at and full of life.
It is not a bio-drama and certainly not a 'tribute' show of the usual kind but an opportunity for Boyle to share the passion he clearly has for these Anthony Newley - Leslie Bricusse songs. It uses them to express emotionally the pattern of Newley's life which is given in spare and frequently satirical outline. It is inevitably very incomplete, we get almost nothing of his career beyond the musical and cabaret stage. Boyle himself plays Newley, supported by what is effectively a three-woman backing group who play all the other personalities in his story.
Kate Eason, Victoria Hart and Anita Markham all appear to be comparative newcomers to the profession but they show themselves to be good troupers with all-round skills as they play characters that briefly range from a dog to a mafia boss, to Leslie Bricusse himself, Joan Collins and his other wives and children, to old vaudevillian George Pesckett (to whom he was evacuated and who taught him his first routines) to Miss Conti at the stage school or film director David Lean. With Racky Plews choreography and Jan Winstone's musical direction they make a vivacious trio that know how to put things over: never before have I realised how effective a pair of bouncing boobs can be when lined up as part of a railway locomotive! Most of the time these are quickly drawn stylized caricatures (this ain't method acting!) but they fit this bill very well - and I especially loved the dog!
Out in front - literally so most of the time, though he interacts with the other performers without any starry nonsense - is David Boyle playing (and singing) Newley himself. Essentially this is Little Chap, dressed and coiffed to look like him and putting the numbers over in a typically Newley way. Boyle is gifted with a clown's mouth that can smile and smile while suggesting a deep sadness beneath and he is a master of a very Bip-like gesture and mime with nimble toes and a strong voice that does these well-loved numbers justice.
This is not a Newley impersonation, though I am sure Boyle has studied Newley's own performances. Boyle has an engaging theatrical personality of his own and this is a very strong performance. It had a clearly nostalgic first night audience delighted but for all the enthusiasm there was a b barrier there between the apparently warm and outgoing character and real contact, that strange double thing of showing both performer and the person behind the mask that Newley himself was so often trying to express. There is an accomplished performer, and in this show, the culmination of previous work on the same material, he is the centre of an evening which anyone will enjoy who likes these clever songs (and who could not?). It will be interesting to see him tackle other material which is not so heavily stamped with another personality.
Until 30th November 2008
Reviewer: Howard Loxton