Next Fall
Geoffrey Nauffts
James Quaife Productions and David Adkin in association with Robin Rayner
Southwark Playhouse (The Little)
–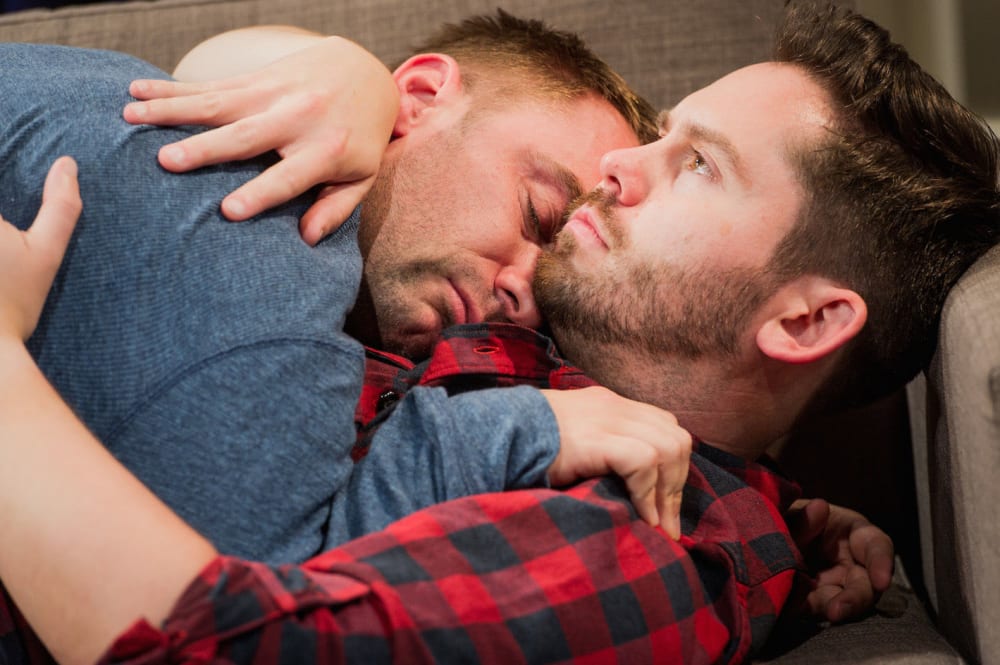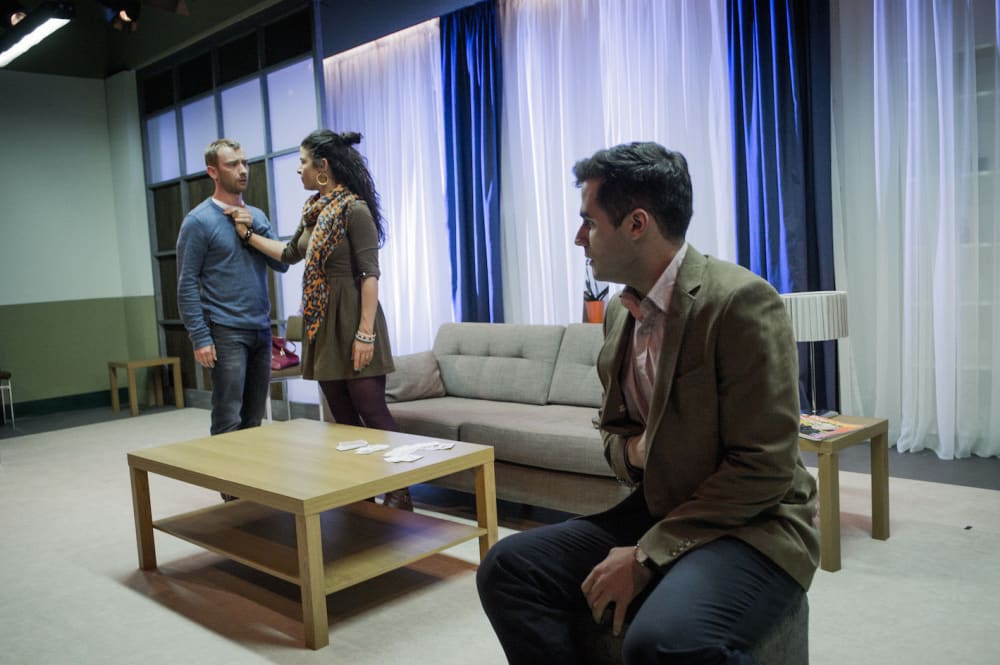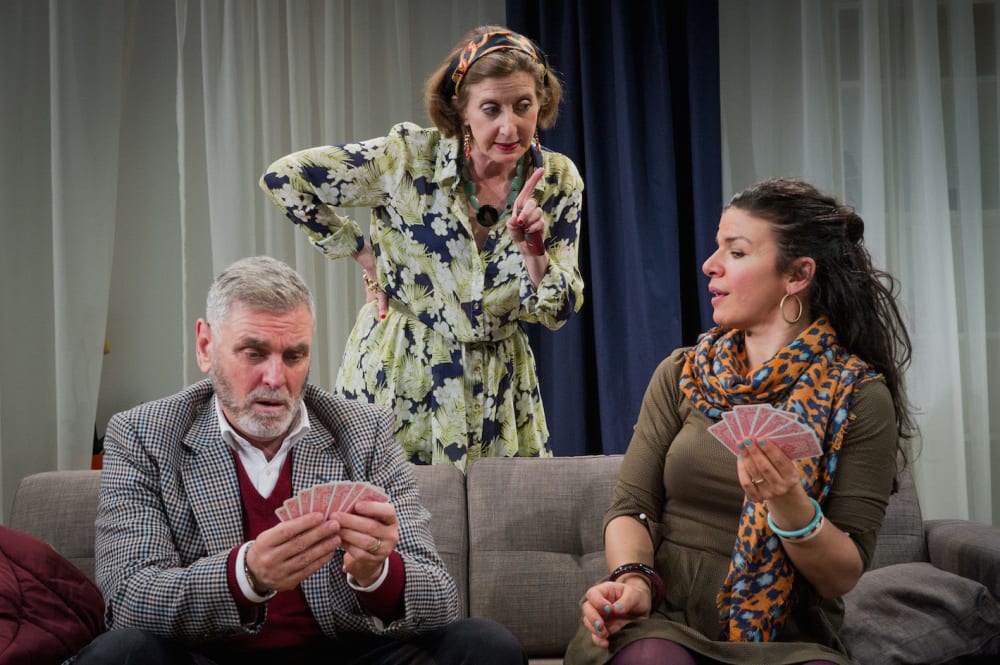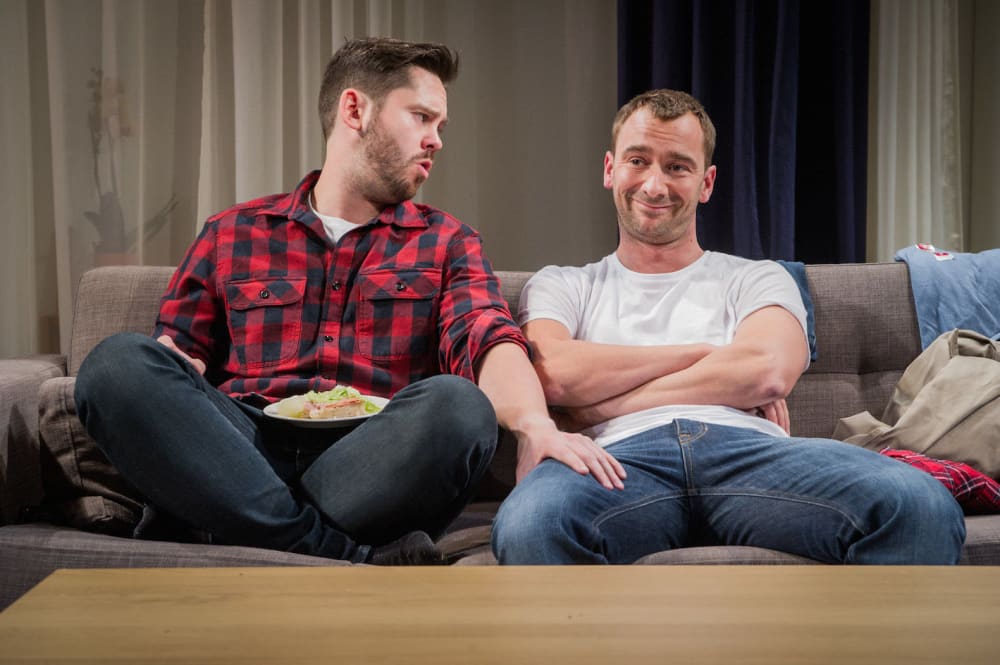 Next Fall, which opened off Broadway in 2009 and then transferred to the Helen Hayes Theatre, gets its UK première with this production directed by Luke Sheppard. It is a play about sin, sex and religion in a relationship in which faiths differ but, though a death is at its centre and its relationships poignant, it is also full of humour.
In a Jewish-run New York hospital, a young man is lying in a coma. He has been involved in a bad motor accident. Gathered there are his divorced parents, his long-standing friend Brandon (all of whom are Bible-carrying evangelicals) and his female chum Holly who runs a shop selling candles and tchotchkes, trinkets of the sort that end up as prizes for games at Chanukah, and his lover, whom his family don't know about. The doctors need a decision on whether his organs can be used for donation to save other lives.
The dying patient is Luke, a young man who disappointed his dad by dropping out of law school to follow a career as an actor. The lover is older Adam, a not very successful writer who worked in the candle shop until starting a new job as a teacher. They met five years ago when Adam was a waiter at a party hosted by Holly and have been together ever since. Adam introduced Luke to his mother, who is fond of him, but, though Holly and Brandon know all about them, Luke has never told his family about Adam or of his own sexual orientation.
The situation is a fraught one but, to explore it, Nauffts turns the clock back on this gay relationship. While the hospital scenes highlight the painful position of a person whose lover has refused to come out of the closet, a series of flashbacks looks at the history of this relationship, especially when one is a convinced atheist and the other an evangelical Christian who still believes his love-making to be sinful.
Almost every couple has to learn tolerance if their relationship is going to work but, though it may not be too difficult to accept having grace said even before eating a sandwich, it is much more disconcerting to have your partner muttering prayers for forgiveness straight after orgasm. If someone sincerely believes that only those who have found Jesus can go to Heaven, it must be terrible to know that the person you love is never going to get there because they lack faith.
It is strange the way that religions intolerant of difference grant salvation though you break all the commandments. You can breach all the teaching yet still go to Heaven if you go to confession or get down on your knees to ask forgiveness. Warfare and the usury of capitalism seem endemic in countries that declare themselves Christian but "In God We Trust" seems to mean trust we can get away with it! Nauffts does not really explore such issues. The central sin here is sex, more particularly homosexual practice.
Charlie Condou and Martin Delaney as Adam and Luke leave one in no doubt of the love and attraction that link them. Delaney sparkles with joy when he is happy but the idea of his dad finding out about him causes panic. It is Adam, however, who finds it increasingly difficult to cope with Luke's sexual guilt and the wall of pretence within Luke's family. Why should they have to hide all their giveaway gay possessions? Why should he have to disappear when Luke's father makes a visit?
Luke was the name of one of the Evangelists, Adam the first Man, thrown out of Eden, but I'm not sure that has huge significance. Next Fall seems to refer more to Luke's never-kept promise to his family next autumn than a reference to original sin.
Calling Luke's dad Butch, a nickname by which everyone knows him, could not be more obvious. Mitch Mullen's silver-haired sophisticated businessman (he comes to town for a rare book auction) gives just a hint that, when Adam suggests that he knows more of the gay world than you'd think, he might be a man in self-denial. He's a suave contrast to his over-active wife Arlene. Life together could not have been easy; you can see why they separated, though clearly still very fond of each other.
Arlene is outspoken and tactless but Nancy Crane makes her full of feeling at the same time as being very funny. She sometimes seems to understand much more than she will speak of. Is it just the sin thing that stopped Luke from spilling the beans to her?
Sirine Saba is warmly supportive as candle shop owner Holly; she makes her emotional and honest. Ben Cura's Brandon is somewhat enigmatic. His friendship with co-religionist Luke seems to unsettle Adam. His well turned-out good looks are perhaps a challenge to Adam's more ordinary scruffiness but, as he himself points out, Luke chose Adam and, when he does reveal more of himself, it is to reveal another layer of the dilemma posed by sex and religion.
This is a play that presents problems. It obviously has a gay perspective but doesn't really argue for one side or the other: that is left to the audience and its ending is rather ambiguous. Luke Sheppard's direction gives it a free-flowing naturalness that brings out the best in the actors and, with David Woodhead's elegant setting, moves easily through time and between hospital and apartment.
Perhaps it runs a little too smoothly so that the full drama of the situation is lessened, but there were tears at the end besides mine as evidence of its emotional impact.
Reviewer: Howard Loxton