Next Lesson
Chris Woodley
Hyphen Theatre Company
Pleasance Theatre Islington
–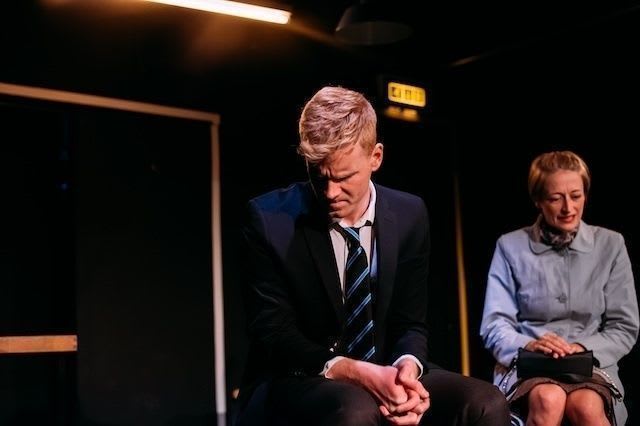 Chris Woodley's play Next Lesson opens with Margaret Thatcher's notorious anti-gay speech to the 1987 Tory Conference.
The following year, the Conservative government introduced Section 28 of the Local Government Act. This prohibited the promotion of homosexuality or "the teaching in any maintained school of the acceptability of homosexuality as a pretended family relationship".
This, along with other public expressions of prejudice, made life more difficult for any schoolchild to express same-sex interest. It also deterred school staff from appearing anything other than heterosexual. After all, wouldn't Section 28 mean for instance that a gay teacher could not be a positive role model?
This is the climate in which Next Lesson traces the story of Michael Turner (Stanley Eldridge), a 14-year-old in 1988 nervously telling his mother that he is gay to a point in 2006 when he is himself an openly gay teacher.
The show moves quickly through a series of short scenes. The year they take place is chalked up on a door to the side of the stage through which characters enter and depart. Each scene illustrates an issue or development in the characters lives.
There is the double life of Chris, a teacher claiming in school not to be gay while behaving in a quite different way at a Gay Pride event. A woman teacher in a secret relationship with another woman tries to maintain that secrecy while she applies for promotion. Then there is the management attempt to stop the use of a book that might present a positive view of gays.
We also see something of the 1999 shock and injury caused by the bombing of a Soho pub popular with gay men.
At no point does the play leave us with the sense that it is easy to be openly gay or lesbian. However, there is a recognition that things have changed for the better. Two school lads relax in school, swapping stories about the males they fancy, one fresh from a rugby match the other visibly gay. In another scene, a group of lesbian and gay staff in school surprise Michael with a small celebration. The mood is upbeat and it is the optimistic note on which the play ends.
The show treats the issues seriously but lightly and this gentleness of touch leads to a weakness. We never get to see much complexity in the issues. There is no exploration of the contending positions on issues raised or the consequences of these issues. Nor does the show allow much space for character development.
We barely see characters before we are rushed into another scene and other characters. Cole Michaels as Dave is a confident, engaging school worker to whom the audience really warm, but he never develops as a character. Esme Paisley-Ford, who had the daunting task of playing four characters, is a very fine actor. However even her excellent ability to switch from one voice to another still left some of us with an occasional confusion.
We should be grateful to Chris Woodley and Hyphen Theatre for this thoughtful show. There was at last night's performance a school trip of 42 positive and very responsive students enjoying what they saw. Would that even have been allowed in the grim days of 88? I think it unlikely.
Let's hope that Next Lesson finds its way into schools as a contribution to undoing some of the damage caused by the prejudices of the past.
Reviewer: Keith Mckenna