The Next Big Thing
Mark Burton and Pete Sinclair
New Players Theatre
(2005)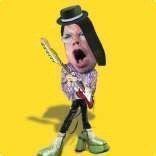 Mark Burton and Pete Sinclair have written an entertaining musical parody of British pop music scene over four decades. The lyrics and heavy sounding music of shock-rock (Led Zepplin, Merseybeat - The Beatles) are typical of the 1960s. The audience is gradually transported to a new genre that evolved in the 1970s (The Kinks, Rolling Stones and Psychedelic music), then on to the 1980s (Elton Jones and David Bowie) and the journey ends in 1990s with the Spice Girls, in a sequence of 18 songs. Clive Paget directs the musical
The evolution of music paralleled changes in fashion and hairstyles. Set and Costume designer, Louise Belson, provides simple but effective costumes to reflect the various period styles. The provincial and inexperienced character of Mike West (Jon-Paul Hevey), a wannabe rock star, stitches the journey through the different musical genres of the assorted rock bands. He never reaches stardom, which may explain why he remains youthful throughout the journey.
Mike West's innocent exuberance commences with the purchase of a guitar, a red one no less. Mark Burton and Pete Sinclair cleverly personify the guitar into a sensible female character (Melissa Lloyd) with whom an amusing and double entendre-filled dialogue is held in the course of his journey.
Mike West, a guitarist dreaming of being a vocalist, is told that he lacks the charisma to be 'the front man' for stardom. He must be on the edge and Druggsy (Keiron Crook) is quick to assist with a wide range of drugs pinned to the lining of his trendy long coat. Rather than taking Mike closer to the edge of stardom, drug consumption farcically brings him face to face with death (Glenn Capman) who mistook him for the successful vocalist and famous Rock star friend (and foe) Zak Love (Jon Boydon). He stared death in the face and, but for the amusing surrealist conversation between our hero and death, Mike West might have touched stardom so often generated by a romantically premature death!
Jon Boyson's showed talent as a vocalist and the ensemble held together well. There is an partially successful attempt to cover a wide range of issues, which dominated the lives of rock bands. However, the plot is artificial and the characters are one-dimensional. The Next Big Thing is an ambitious undertaking, which is at least successful in as far as it provides a witty pastiche of rock culture.
This is an entertaining evening even for the likes of me, who cannot distinguish one rock band from another. I found the musical journey amusing and enjoyable, thanks to the inspired and energetic performance of the cast.
Members of the audience, who were better acquainted with the music and the rock scene, roared with laughter.
Reviewer: Rivka Jacobson