Next Door's Baby
Music and lyrics by Matthew Strachan, book by Bernie Gaughan
Orange Tree, Richmond, Surrey
(2008)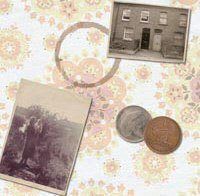 While this new musical play was in rehearsal there were dark days for the Orange Tree, expecting at any moment to have its Arts Council grant severely chopped for no better reason than that "Richmond is culturally well served." As the ACE letter explained, it had been "decided to prioritise more fragile work in the experimental, circus and street art sectors."
Happily wiser counsels prevailed, reflecting the Arts Council's considered belief in "the quality and importance of the Orange Tree's work, recognition of its significant reputation as London's only permanent theatre-in-the-round and its commitment to unearthing forgotten classics which gives it a national significance."
So say all of us. And here, at the dawn of an official blessing of its abiding value, comes a specially commissioned piece from composer Matthew Strachan and his wife Bernie Gaughan — she perhaps better known as the prolific novelist Bernadette Strachan.
Her contribution to the evening derives from a Dublin-based radio drama, set in the 1950s, featuring two families living in adjoining terraced houses, who become locked in a bitter matriarchal feud about a Bonny Baby competition run by the local newspaper.
On one side of the garden fence is tough talking Mrs O'Brien, newly-widowed but keeping up appearances at the local Catholic Church while suffering a terrible sense of guilt about some family scandal — a secret so dark it takes us almost the whole evening to discover what's going on.
On the other is the genteel Mrs Hennessy, played with neatly coiffed superiority by Brenda Longman, her meekly compliant breadwinner in tow, plus their daughter Miriam whose unhappy transatlantic marriage is causing discreet family ructions on the doorstep — to the rude delight of the O'Brien's.
In the course of its translation from radio play to musical theatre, several characters changed their roles, disappeared or grew in significance, while new ones popped up. Significantly for the musical genre, composer Strachan, under pressure from Ms Gaughan's original plot, seems to have started work on his lyrics then shaped the melodic line to fit the words. A sub-Sondheim approach it makes for a challenging score, its thematic qualities not always evident at a first hearing.
Instead of an overture or perhaps a company ensemble routine, the play opens with Louise Gold as the spirited Mrs O'Brien delivering a gritty, unsettling solo, Hold It All Together, which has more to do with domestic pressures than kinship or family celebration.
But half way through the first act the play bursts into musical enchantment with Emily Sills as Miriam, the pretty blonde soprano from next door, who reveals her innermost thoughts with a Secrets ballad, both touching and tuneful.
Sondheim aficionados may also discover a dance tempo link to the master's work in the second act opener as lyric tenor Stephen Carlile, playing the older O'Brien son, celebrates his dreams of becoming a gallant Canadian mountie with a lyrical Red and Gold in strict waltz-time, a small-scale production number that could almost be separated from its setting to become a musical item in its own right.
Even Louise Gold's Mrs O'Brien has what might be called a Kander & Ebb 'Coloured Lights' moment when she dreams of dancing with the ghostly presence of her late husband Christy as they first meet on a Dublin dance floor.
Given their powerful musical presence, these three private dreams draw the play's focus away from its titular theme of Mrs O'Brien and her competitive rivalry with Mrs Hennessy.
Not that the two bonny babies are ditched along with their bath-water. But the reconstructed plot now chiefly features the sad and lonely figure of Orla, an unmarried mother with no claims on her own child, a role beautifully portrayed by actress/singer Riona O'Connor, whose poignant Hello Me provides the show's crucial turning point, as she makes a reluctant choice between deprived motherhood and teenage freedom on the Britannic mainland.
Finally a special word of praise for Clare Louise Connolly, a youthful West End veteran who, as Orla's younger sister, gives a strongly focussed performance as a studious child with a bright future, delivered with impressive vocal projection.
Reviewer: John Thaxter