Alice Unhinged
Joanna Billington and Will Feasey
Young Pleasance
Pleasance Courtyard
–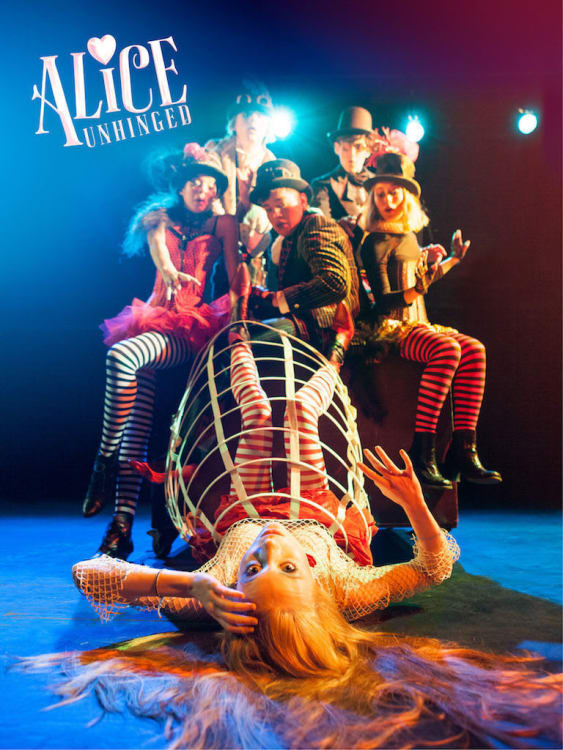 The ever excellent Young Pleasant is celebrating its 21st year at the Edinburgh Fringe with an impressive, rombustious production of Alice Unhinged.
This new, vibrant and exciting version of this classic tale exudes the trademark professionalism of the cast and the exceeding high production standards that have made the Young Pleasance the must-see show year after year.
Joanna Billington and Will Feasey's clever and witty script written in rhyme is a joy capturing the bizarre ingenuity of Carroll's original story.
The splendid multi-level moving set perfectly creates the magical world that Alice enters and the beautifully designed costumes reflect the many characters to perfection.
It starts in a pulsating nightclub where Alice, the excellent Phoebe Stapleton, swallows a spiked drink that sends her into a vortex world as she returns back down the rabbit hole to the mysterious underground of wonderland to relive her original adventure with a decided twist.
The large highly-talented cast perform with zeal and enthusiasm, relishing the roles they play in this high-energy production. There is strong, powerful ensemble work and some stunning choreography.
All the favourite characters are here including the white rabbit, "who is late for a very important date" and the vindictive red queen, a sterling performance from Phoebe Campbell.
This is a fast-moving kaleidoscope of scenes and images played at tremendous pace with superlative performances throughout.
But will Alice be able to wake up in time to make the journey to return to the real world?
This highly inventive production skilfully directed by Jo Billington and Kathryn Norton is tremendous fun and is undoubtedly one of the must-see show of this year's Fringe.
Reviewer: Robin Strapp