The Life and Adventures of Nicholas Nickleby (Part I)
Charles Dickens, adapted by David Edgar
A Chichester Festival Theatre Production
New Victoria Theatre, Woking, and touring
(2007)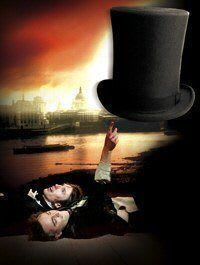 We took our seats for the performance and hardly had time to admire Simon Higlett's intricately detailed set – a jumble of houses, staircases, windows and balconies - before the stage came alive, awash with people singing, dancing and going about their business. The muffin sellers spilt over into the audience as a politician took centre stage. His news of a law which would benefit all was greeted with cheers, until the sellers realised that it would put them out of business and the cheers turned to jeers. Has nothing changed?
This is Dickensian London circa late eighteen thirties, and we are about to spend the next three hours in the company of Nicholas NIckleby as he struggles to make his way in a cruel world – three hours which I have to say passed in a flash.
Directed jointly by Jonathan Church and Philip Franks, the story bowls along at a cracking pace, narrated by members of the cast in turn with almost all of the twenty seven actors each taking several parts (there are about a hundred characters) and the eight hundred pages of the original novel have been condensed into four hundred pages of script, a daunting task for both actors and directors, and one which they have joyously taken on board with the energy and enthusiasm of this superb ensemble recreating a world of avarice, humour, cruelty and kindness and moving seamlessly from hope to despair and back without missing a beat.
Left destitute by the death of their father, Nicholas arrives in London with his sister and mother to throw themselves on the mercy of uncle Ralph – a man who has grown rich by having no mercy at all. He arranges a teaching post for his nephew at a school in Yorkshire, Dotheboys Hall, and Nicholas is so appalled by the treatment meted out to the orphans here that he gives the evil schoolmaster a sound thrashing, then runs away taking a simple-minded boy called Smike with him and they join a troupe of travelling entertainers.
That is the essence of the story, but along the way we meet a multitude of diverse characters, mostly larger than life, and the scene changes from London streets to a Yorkshire schoolroom, to a coach journey and to a milliner's shop, with little more than a table and two chairs.
Interestingly the characters are not all one-dimensional. Pip Donaghy's headmaster, Wackford Squeers, may be brutally cruel to the orphan boys in his care, but he appears to have a loving relationship with his wife, and Richard Bremmer's obsequious and cringing Newman Noggs, clerk to Ralph Nickleby, shows he is secretly on the side of the oppressed. Kindness is found in unexpected places. Bob Barrett's bluff and uncouth Browdie, a man with no social manners, gives Nicholas a guinea for his coach fare to London but, being a Yorkshire man, instructs him to "send the surplus back".
It is really unfair to single out any actor as there is not a weak link in this superb ensemble, but just to mention a few – Daniel Weyman is Nicholas, on stage throughout and a very convincing honourable young man. Abigail McKern is a twittering optimistic Mrs. Nickleby, and Hannah Yelland is daughter Kate, cool, beautiful, and trying her best to fit into a new and unfamiliar life, while David Yelland's Ralph is cool, remote and ruthless. The one who tugs at the heart strings is David Dawson's poor ill-treated Smike, crippled in both mind and body.
Part one ends with the Crummles' hilarious performance of Romeo and Juliet, shamelessly over-acted and with all the corpses rising from the dead.
A real theatrical treatment for a very theatrical novel and one not to be missed. I can't wait to see Part Two.
Touring to Nottingham and Milton Keynes before opening in London's West End on 5th December – then on to Toronto from February to April 2008
Gail-Nina Anderson reviewed this production at the Theatre Royal, Newcastle
Reviewer: Sheila Connor