Nicobobinus
Terry Jones adapted by John Ward
Red Ladder and Dumbwise
Lost Theatre
–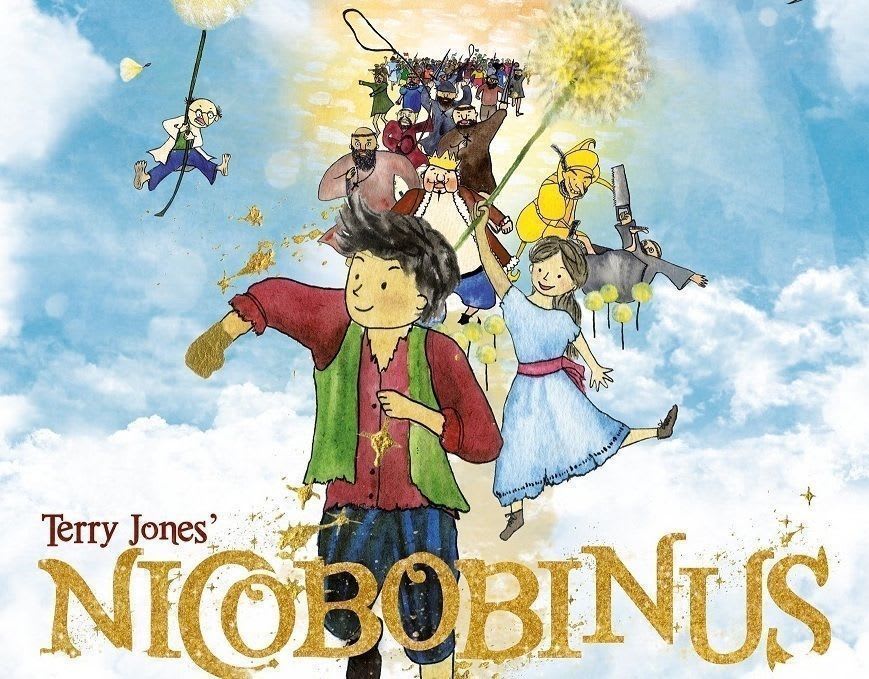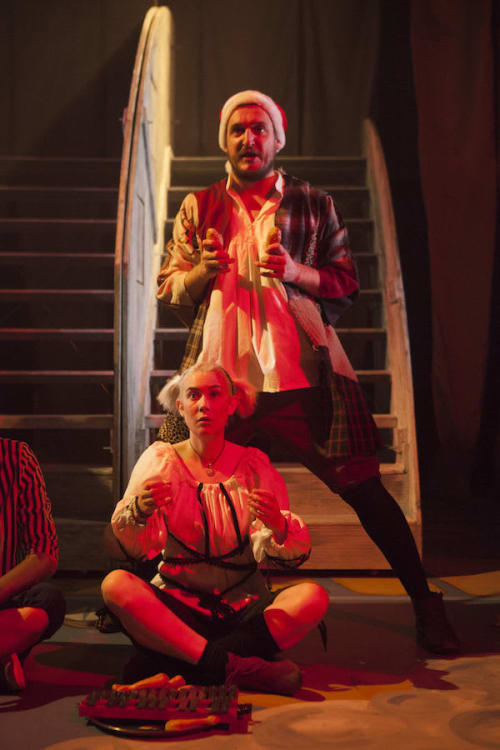 This zany adaptation of Terry Jones's children's story takes its target audience of children and families on a wild adventure.
Young Nicobobinus can do anything, or at least his friend Rosie thinks so. They both live in Venice, where we find them already playing games before the show proper, but they find Venice boring (maybe it is if you actually live there) so Rosie decides they should go off to the land of dragons.
It proves not that easy to get there and things start to go wrong right from the beginning when Nicobobinus climbs a wall to get Rosie an apple and gets caught stealing. First thrown in a dungeon, he finds his way along tunnels and into the Doge's golden palace where his arms turns to gold, which it seems everyone else wants.
When he is reunited with Rosie, they are captured by pirates and imprisoned by monks (who say they're crusaders but may not be real ones). Nicobobinus gets put in a cage. It looks like the end of him as rats gnaw through the rope that suspends him over the ocean, but he is freed when his cage lands on a ship where Rosie is already aboard and she releases him.
Among their adventures, they climb mountains that go up and down like waves (but very slowly) and get blown by a white wind into what its King, Pactolus, calls his City of Silence (and others the City of Cries) with its imprisoned people. Yes, there are dragons—which is just as well because Nicobobinus needs dragon's blood to turn his gold limb back into a live one. Our hero triumphant, good wins in the end with a message of peace and inter-species co-operation.
It's a fantasy that takes great imaginative leaps, but John Ward's direction drives it forward without giving time to question its logic and Eilidh Debonnaire's songs and music give it enormous vitality, splendidly performed by this company of actor musicians. The cast act as narrators as well as becoming their characters; they all seem to be accomplished musicians and can break into a dance when it suits the action.
If you don't already know Terry Jones's book, there are times when it is quite hard to follow, made more difficult because on their first day performing in this theatre they haven't yet matched the balance of voices and instruments to the space's acoustics.
A few clearer consonants might be an improvement, but with the music so sprightly that doesn't much matter. This isn't a show that depends on precise understanding but rather on childlike involvement. A large part of getting that is due to Max Runham and Samantha Sutherland as Nicobobinus and Rosie who, though grown-up, present credible children, easy to identify with. They really do share both their fun and their anxieties with their audience.
Jofre Alsina, Lloyd Gorman and Eilidh Debonnaire play all the other parts, except for the Dragon Ashkanet, whom we don't actually see except in our imagination when Rosie and Nico are held in his claws, Terry Jones himself gives him a voice.
Eilidh makes a very strange female Doge, not at all like the portrait she points at in her golden palace. Lloyd is a baddie, who is half-doctor, half-pirate captain. Maybe he isn't so bad really: his life is difficult, he says he's between jobs. He also plays a very funny fellow who lives in the Ocean of Mountains and who manages to be both awake and snoringly asleep at the same time.
Jofre is a guard who can't keep up with Nicobobinus and the cruel but funny fat King Pactolus and all three of them play bright green dragons with yellow horns. There is quite a lot of 'coarse acting' from all three of them but this is a let's pretend story and that is all part of the game.
The set consists largely of two flights of steps that start off pushed together as a bridge on a Venetian canal and a painted floor cloth. It must have seemed a very good idea at the design stage but it is ugly and far too big and dominant. It sometimes slows things down as the cast rearrange it to cleverly become the show's different locations, but its blank surfaces are altered by lighting designer Joshua Faro's projections, some more effective than others, and Moira Lam's attractive animations, which help to tell part of the story.
This is a show that runs on its own enthusiasm and sometimes seems to outrun its audience, but that is something that the cast will discover as they play it in. It is full of fun and seems to carry its young audience with it to judge by reactions around me.
Reviewer: Howard Loxton