Night Must Fall
Emlyn Williams
The Original Theatre Company and Salisbury Playhouse in association with Eastbourne Theatres
York Theatre Royal
–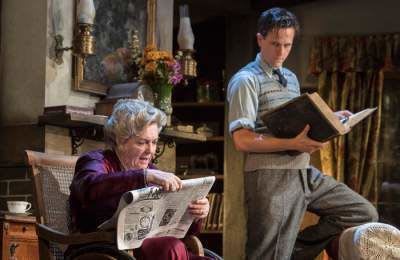 Emlyn Williams's psychological thriller Night Must Fall is rarely staged nowadays, but it was a huge success when it was first performed in 1935, running in the West End for over a year before transferring to Broadway. It has also been filmed twice—first with Robert Montgomery and Rosalind Russell in 1937 and then with Albert Finney and Susan Hampshire in 1964.
Mrs Bramson (Gwen Taylor) is a cantankerous old widow, who resides in a bungalow in the middle of a forest with her intelligent, emotionally repressed niece, Olivia (Niamh McGrady). Confined to a wheelchair, the dowager is looked after by two long-suffering servants—Dora (Melissa Vaughan), a young maid, and Mrs Terence (Mandi Symonds), a middle-aged cook—and Nurse Libby (Anne Odeke).
When Dora reveals that she is pregnant, Mrs Bramson considers firing her at first but then decides to force the father of the unborn child to marry her. The father, Dan (Will Featherstone), turns out to be a suave and handsome young man, who manages to charm Mrs Bramson into forgetting about Dora's pregnancy and becomes her personal assistant.
Olivia, however, is not taken it by Dan's magnetism, and she becomes convinced that beneath his pleasant exterior lurks something altogether more sinister. Her reservations about him grow when, a few days later, it is reported that a local beauty has gone missing. Later, when the headless body of a woman is found in the forest, she decides that Dan is the one responsible.
A successful stage thriller requires certain ingredients: intrigue, red herrings, unexpected plot twists and good scares. Night Must Fall lacks intrigue because Williams makes it clear early on who the murderer is, and he makes little effort to subvert the audience's expectations. This is not necessarily a problem—in Shadow of a Doubt (1943), for example, Alfred Hitchcock makes it apparent from the outset that Joseph Cotton is the 'Merry Widow Murderer'. However, unlike the latter film, there is little sense of danger or menace in Williams's play.
Some critics have lauded Night Must Fall as a disturbing portrayal of the murderous mind, but I am unconvinced by this assessment. In real life, Williams was obsessed with homicide—he followed murder trials and penned books on Dr Crippen and the Moors Murderers—but this knowledge is not really felt whilst watching the play. Compared to Bryony Lavery's Frozen (1998), for example—a chilling and insightful play about a child killer—Night Must Fall is fairly toothless.
While I have reservations about the play, Luke Sheppard's production is a solid piece of work. David Woodhead's beautifully detailed set evokes the characters' seclusion and Howard Hudson's simple but effective lighting creates a sense of foreboding that Williams's script mostly lacks.
Gwen Taylor gives a strong performance as Mrs Bramson, capturing the character's vanity and selfishness but also making her a figure worthy of pity. One of the production's few exciting moments comes in the second half when she is left alone in her secluded home at night. In this brief sequence, Taylor conveys the character's vulnerability and thus makes the audience fear for her safety.
Will Featherstone deftly puts across the superficial charm that allows Dan to ingratiate himself with the initially hostile dowager. Occasionally, he reminded me of Michael Kitchen in Dennis Potter's Brimstone and Treacle (1976), the (literally) devilish young man who invades the home of a despairing middle-aged couple. Featherstone also conveys the brittleness of Dan's fake façade without overplaying the character's underlying psychosis.
As Olivia, Niamh McGrady is suitably suspicious of Dan but also manages to convince us of her growing passion for him. The rest of the cast give lively—if occasionally over-the-top—performances in their supporting roles.
Luke Sheppard's production is well-acted and handsomely staged, but Williams's play has not retained its original power. As a thriller, it is not particularly thrilling and as a psychological drama, it is not especially insightful.
Reviewer: James Ballands