The Night Queen
Philip Monks
Hoopla
Belgrade Theatre, Coventry, and touring
(2011)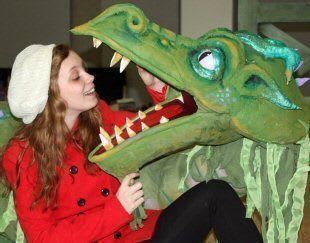 Children's theatre can be difficult to get right. As any parent will know, keeping a child interested and engaged for an hour is no easy task. But using elements of the music, characters and plot from Mozart's The Magic Flute, Hoopla have managed to create a simple yet engaging fairytale that will delight and entertain both children and their parents.
In The Night Queen Pamina (Sarah Middleton) is a young girl who lives with her Dad (Dan Willis). Pamina befriends a bird named Popinjay using her magic flute. When Pamina sneaks out to explore the forest against her father's orders she meets The Night Queen (Naomi Lee Schulke) and gets herself involved in an adventure that involves both a dragon and a series of tests based on those in The Magic Flute.
In the age of 3D cinema and alarmingly lifelike computer animation, it's nice to know that children still have a sense of imagination. For many younger audience members the simple puppets that are brought to life as the dragon and Popinjay the bird will be the highlight of the show. Straight out of drama school Sarah Middleton shines as the adventurous yet naive Pamina. The small cast of three play a number of additional characters and operate the puppets, making the ensemble seem larger than it really is.
The Night Queen follows a classic fairytale narrative, interspersed with musical numbers, using music from Mozart's opera. This traditional approach works to create a sense of old time wonder and amazement. The shows design also adds to the sense of magic with different panels on the set opening to create different scenes. The Night Queen is a must see for children who enjoy a good story, and those of us who still believe in magic.
At the Belgrade Theatre Coventry until the 11th June. Touring until the 25th June.
Reviewer: Iain James Finlayson