Nights at the Circus
Based on the novel by Angela Carter, adapted by Tom Morris and Emma Rice
Kneehigh Theatre (Lyric Hammersmith/Bristol Old Vic co-production)
West Yorkshire Playhouse, Leeds
(2006)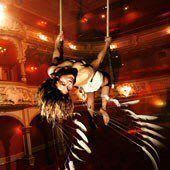 Nights at the Circus, Angela Carter's masterpiece of English surrealism, isn't the most obvious candidate for a page-to-stage adaptation. The book is one of my favourites and, much as I've enjoyed Kneehigh's previous shows, I simply couldn't imagine how a dramatised version could possibly convey the sinister humour of the original. But after seeing the show - well, all I can do is shove a custard pie in my own face and apologise for doubting the company's ingenuity. Cornwall's unofficial national theatre has come up with yet another triumph.
Carter's novel tells the story of Fevvers (Natalia Tena), hatched out of an egg (like Helen of Troy) and brought up in an East End brothel. The nineteenth century is drawing to a close and there aren't many job opportunities for a girl with wings, so, with the help of her foster mother Lizzie (Carl Grose), Fevvers joins the circus as a trapeze artist. She is pursued by journalist Jack Walser (Gisli Orn Gardarsson), who suspects she is a fraud but gradually falls in love with her. The other circus performers include a wife-beating clown (Ed Woodall), his punching-bag of a mistress Mignon (Amanda Lawrence) and a tiger-taming Abyssinian Princess (Adjoa Andoh), all of whom travel to St Petersburg with the show's flamboyant American owner (Andy Williams) and his psychic pig Sibyl (a delightful ventriloquist's dummy).
Fans of the distinctive Kneehigh style will not be disappointed. The Princess' tigers are magically brought to life by growling saws and buckets of fire, Fevvers' first flight is recreated by a puppet, cross-dressing is taken for granted and the lovers celebrate the dawn of the twentieth century with a gloriously acrobatic mid-air ballet. Morris and Rice very sensibly cut many episodes from the novel and made a few changes, most of them successful (although Fevvers' creepy wing-collecting admirer seems to have wandered in from a modern horror film). Stu Barker's songs, which include the Colonel's jaunty tribute to his porcine pal, also make a valuable contribution to the show.
There are, however, a few minor quibbles. I can understand why Fevvers, who in the novel is a strapping six-footer past her first youth, is played by the sylph-like young Natalia Tena; to modern eyes a Junoesque trapeze artist would be ludicrous. But for much of the time Ms Tena comes across as a schoolgirl - albeit one with an impressive wingspan - imitating a Cockney tart, and her relative lack of experience is all too obvious. The show's running time could also have been cut by at least fifteen minutes with no ill effects.
But these drawbacks are more than compensated for by a host of insightful touches; I particularly liked the way in which Adjoa Andoh's dapper master of ceremonies, who introduces the show in immaculate top hat and tails, brings down the curtain dressed as a First World War soldier - the new century won't be the paradise of social and sexual equality dreamed of by the whores and circus artistes. Nights at the Circus is a remarkable achievement and deserves to garner another clutch of awards for Kneehigh's mantelpiece. I can't help feeling that Angela Carter would have loved it.
At the West Yorkshire Playhouse until 4th March
Philip Fisher reviewed this production at the Lyric Hammersmith
Reviewer: J. D. Atkinson