Nina Simone Black Diva Power

Art Events Australia
New Town Theatre
–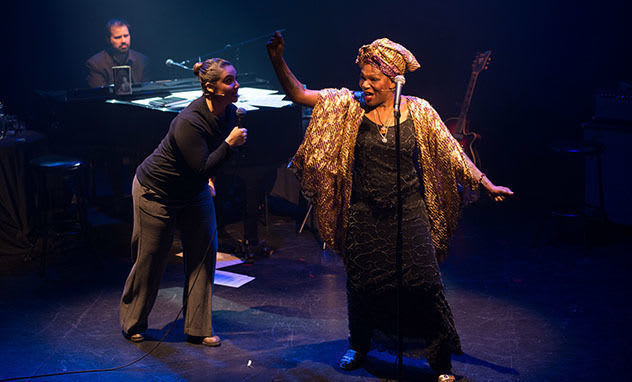 There's fertile ground for storytelling in the life and experiences of Nina Simone; there is also a wealth of song to be enjoyed. Black Diva Power opts to follow the latter, rather than the former.
With Ruth Rogers-Wright as Simone taking the majority of the work, there is support from Zuleilka Khan adding harmony and playing activist Lorraine Hansberry while Steven Grant provides live piano accompaniment.
Rather than opt for a traditional narrative, the play opts to show the growing relationship between Simone and Hansberry, told in brief snippets interspersed between some of Simone's classic songs including "Strange Fruit" and "Young, Gifted and Black".
The effect is perfectly entertaining but ultimately unsatisfying, as the performance feels like it should be occurring in the corner of some trendy Soho coffee bar, complete with a post-show piece of slam poetry.
The overall result is an enjoyable hour of song with some real musical verve; the artifice of this being a play however feels like an unnecessary addition. Welcome but somewhat fruitless, despite the passion and emotion the artists put into their brief snippets of conversation.
Reviewer: Graeme Strachan